Critics see the bishop's remark plays into the hands of the "Hindutva," an ideology that views all religions other than Hinduism as foreign
Religious leaders are objecting to several provisions of the proposed measure, including the minimum age of conversion
On Sept. 21, 2021, activists and human rights workers offered wreaths for those who fought for freedom during the years of martial law
The University of Saint Joseph has been given, for the first time, "carte blanche" to recruit students from the mainland
Make a difference!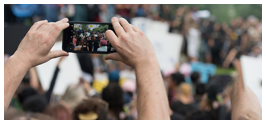 We work tirelessly each day to support the mission of the Church by giving voice to the voiceless.
Your donation will add volume to our effort.
Monthly pledge

Bishop Tala-oc of Kalibo said the operation of casinos "will slowly weaken and eventually destroy the moral fiber of the people"
"This prolonged pandemic has turned life upside down. There are uncertainties in every dimension of life," said Archbishop John Wong
The statement decries the pronouncement of Bishop Joseph Kallarangattu of Palai who earlier warned against "narcotic jihad, love jihad"
The Church in India is definitely polarized. The issues that divide them are not necessarily new.
The bishop is "asymptomatic" but has been required to isolate himself for the time being
Pastor Cung Biak Hum, 31, was shot and killed when he and several others ran to put out fires set by government soldiers
On Sept. 21, 2021, activists and human rights workers offered wreaths for those who fought for freedom during the years of martial law
On Sept. 21, 2021, activists and human rights workers offered wreaths for those who fought for freedom during the years of martial law
Five years into President Rodrigo Duterte's "war on drugs," families of the victims are literally picking the remains of their loved ones
Cardinal Jose Advincula of Manila leads the celebration of the Holy Mass for "frontliners" on Sept. 15, 2021
The Catholic faithful in the Diocese of Borongan celebrated its traditional "Padul-ong Festival" even as Typhoon "Pakhar" made landfall
Pope Francis invites everyone to pray for "an environmentally sustainable lifestyle" in his video message for September
Philippine health workers stage mass walkouts on "National Heroes' Day" even as President Duterte lauded them for their sacrifice
Catholic churches in the Philippines continue to serve as vaccination centers against COVID-19 to augment the government's efforts