Thousands of former soldiers of South Vietnam continue to endure intense mental and physical hardships even after the end of the Vietnam War in 1975.
They must work hard to survive and support their families. They are isolated, they remain under surveillance and are treated as enemies of the state, and they have no access to social welfare.
James Truong Van Nuoi, a Catholic and former corporal, now ages 70, lives in Thua Thien Hue Province, spoke with Aid to the Church in Need about his experience.
---
---
---
"I went into the army in 1969 when I was 18 years old. Three years later, I lost part of my left arm in a battlefield in the battle of Khe Sanh in Quang Tri province. My older brother, a fellow soldier, was also injured. We were given medical treatment and disability allowance by the [then-South Vietnamese] government.
"After April 1975, I spent three months in labor camps. I was discriminated against, treated like an enemy, and never given any allowance by the government. I had to do various jobs — from selling fishing nets and watches to growing rice — to support my five-member family.
"I have only my right arm to work so my productivity was low. We had to work hard and live on a shoestring to survive. Our three children have had little education as we could not afford to cover their school fees.
"In 1986, I had to sell all we had to pay for my wife's medical treatment; she had breast cancer. We suffered a severe lack of food after my wife died of cancer in 1989.
"We had to live on the money earned by my two daughters who work as daily wage earners. We could not afford to repair our old house, which is in poor condition.
"Local priests and benefactors help me out by giving me rice, instant noodles or sometimes the equivalent of US$4, but on an irregular basis. I owe them a debt of gratitude that I can never repay. However, I am being questioned many times about the donations and those who have helped me.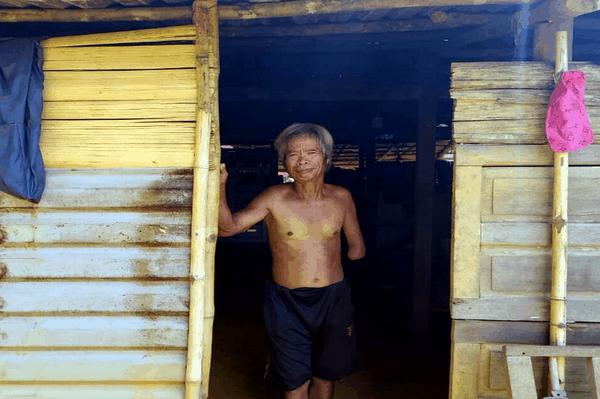 "I am luckier than some of my other former army comrades, who have to sell lottery tickets or food on streets, work at construction sites, collect used items, or ride motorbike taxis to make a living. They live in miserable conditions and have no money to pay for medical care.
"We are innocent, and we sacrificed part of our bodies for the nation, so why are we mistreated? We daily pray to God to give us health and peace to live in the rest of our lives.
"We also wish the government would stop the blatant discrimination against us and treat us fairly, with respect and brotherhood, because both sides — losers and winners — are Vietnamese and victims of the war."
Redemptorist Father Joseph Truong Hoang Vu, who runs the Gratitude to South Vietnam's Disabled Soldiers Program, has worked with veterans for years.
On March 31, the priest announced that the congregation and volunteers had offered money to about 6,000 elderly disabled veterans in 34 southern cities and provinces between December 2020 to March 2021.
The veterans were given US$108 each. The money was donated by Vietnamese people at home and abroad, who respect, love, and want to show their gratitude to aging soldiers who for decades have suffered so much material and emotional distress.
Distributing the money was difficult as authorities would not allow a public gathering of the veterans. The priest and volunteers had to meet with individual veterans at their homes. Many volunteers were prevented from joining the effort, while others were followed, beaten, and even detained for up to 12 hours by police.
"We help bring the gratitude and love of donors to elderly soldiers, to comfort them at the end of their lives," Father Joseph said. – report by Francis Tran
Aid to the Church in Need has given permission to LiCAS News to use its stories and reports on LiCAS.news and LiCAS.news (Philippines)