A military court in Myanmar sentenced two journalists to two years in prison for "incitement" and for "spreading false news" on Wednesday, June 2.
Aung Kyaw of the Democratic Voice of Burma and Zaw Zaw, a freelance reporter for Mizzima, were sentenced by a court in southern Myeik.
They were charged by the military with violating Section 505(a) of the Penal Code that pertains to the circulation of statements, rumors, or reports with the intent to cause military officers to disregard or fail in their duties.
---
---
---
Aung Kyaw is the third DVB journalist sent to prison since the February 1 military coup while Zaw Zaw is one of six Mizzima staff arrested since the coup.
DVB and Mizzima are among news outlets whose licenses were revoked by the junta, which has restricted internet access and banned outside satellite broadcasts.
"I don't know why he was sentenced to two years in prison," Aung Kyaw's wife, Nay Chi Moe, told Radio Free Asia in an interview. "Our family was not allowed to hear the case held at the prison court," she said.
Soldiers arrested Aung Kyaw in his home on March 1. The day before his arrest, he broadcast live news that soldiers raided and destroyed some houses in Myeik township.
"I have no confidence in the judiciary under the military council, so I will not appeal," Aung Kyaw's wife quoted her husband as saying after the verdict came out.
Nay Chi Moe said she would not submit an appeal. "The 505(a) charge should not have been used against a journalist," she said.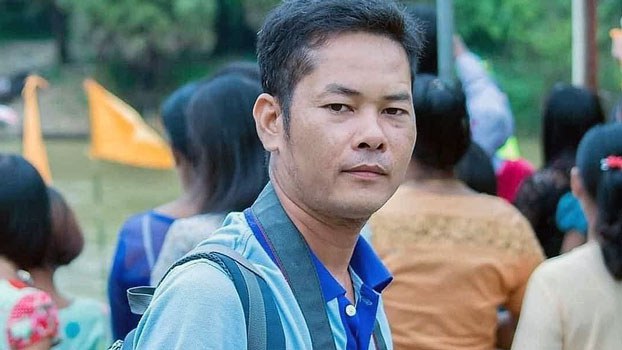 Aye Chan Naing, DVB's executive director and chief editor, called the sentence "total injustice."
"There is no reason our reporter Aung Kyaw should be jailed," he told Radio Free Asia. "The legal system is so flawed, and it was an unlawful arrest."
Myint Kyaw, a former Myanmar Press Council member, said the current situation of the press in Myanmar is at its worst under the military regime.
"The situation of the press is deteriorating," he said. "It is likely to become even worse. No one can say for sure whether it will lead to a censorship regime as existed under the previous junta, but we can say it's heading in that direction."
More than 80 journalists have been arrested since the February 1 coup, and over 50 of them face criminal charges while detained in prisons across the country.
Correspondents say many journalists now are fleeing the country because of the junta's crackdown on the media, with some going abroad to continue their reporting and others out of jobs and struggling to make ends meet.
Following the coup, the junta banned 11 independent news outlets, including DVB and Mizzima, from operating.
A spokesman for the military council could not be reached for comment on Wednesday. The junta has said it respects the media but will not tolerate journalists who instigate unrest.
The military has in recent months arrested then deported a Japanese and a Polish journalist and is currently holding two American media workers. – with reports from Reuters and Radio Free Asia