Catholic bishops in the central Philippines have voiced concern over the impending operation of gambling casinos on the world-renowned resort island of Boracay after the government lifted the moratorium on casino operations on the island.
"No to gambling casino, no to gambling in Boracay!" read a "collegial statement" issued by six bishops and a diocesan administrator in the country's Western Visayas region on October 4.
"Boracay is God's gift to Aklan and to the whole world," read the bishops' statement.
---
---
---
Boracay, an island about 320 kilometers south of Manila, was declared a tourist zone and marine reserve in 1978. It became popular among foreign tourists in the 1980s.
The island, which is under the government jurisdiction of the town of Malay, in the province of Aklan, is famous for its white sand beaches.
It was awarded the "2012 Best Island in the World" by the travel magazine Travel + Leisure, and in 2014, it was at the top of the "Best Islands in the World" list of the magazine Condé Nast Traveler.
"Boracay is already a paradise: a family destination, a venue for educational advancement and entrepreneurship, a wider avenue for employment, a good source of livelihood for the people and revenues for the government," said the bishops in their statement.
They noted that the island is blessed with "pristine white powdery sand, crystal azure waters, abundant flora and fauna, and diverse marine life," making it "one of the best and most attractive vacation destinations of the world."
"We appreciate the efforts of our government in restoring the natural, God-given wonders of Boracay Island that make it famous here and abroad," said the bishops.
"We appeal to our public servants to hear our people's plea to keep Boracay clean, safe, child and family-friendly island to visit and to spend precious quality time with our loved ones," they added.
The bishops said that having gambling casinos in Boracay "will not only divert and distract visitors from the true beauty and value of this most cherished island but will also pave the way for destructive lifestyles and habits that will significantly alter and destroy the treasured values, culture and life of the community."
"Needless to ask, how many individuals and families have been destroyed because of gambling?" said the bishops.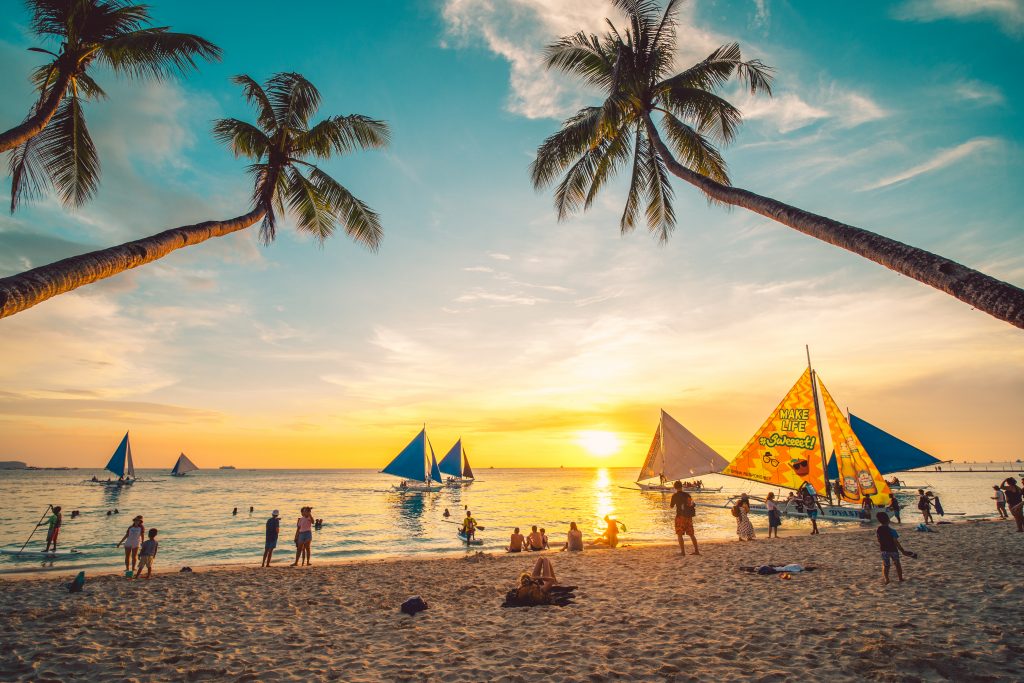 In August, the Philippine government announced that President Rodrigo Duterte has lifted a moratorium on casino operations in Boracay to generate taxes for COVID-19 pandemic response.
"The president has given his go signal allowing the operation of a casino in Boracay," said presidential spokesperson Harry Roque in a statement.
Media reports said the president's decision would allow the operation of casinos for the Philippines' Alliance Global Group Inc, and the partnership of Leisure & Resorts World Corp and Macau's Galaxy Entertainment Group.
In 2018, Duterte rejected Galaxy's plan to build a US$500 million integrated casino resort in Boracay. Alliance Global announced that it will proceed with its casino project in Boracay.
The bishops said in their statement that they understand the urgent need of the government to raise revenue but said that "the harm and risk factors far outweigh the expected benefits if we conduct the social impact assessment of opening gambling casinos in Boracay."
They said that "there have been numerous studies and findings that established the fact that gambling problems can have a significant impact and harm on families, friends, workplaces and communities."
They warned of consequences of gambling, including "diminished emotional, mental and physical health, communication breakdown and confusion about family roles and responsibilities, impaired family relationships, mistrust, family neglect, poor social life and work performance resulting to lost productivity, crime (such as theft and fraud), and financial hardship – even bankruptcy, depression, and suicide."
"Gambling statistics further show that families where a parent gambles compulsively are more likely to experience domestic violence, including child abuse," said the bishops, adding that over 80 percent of problem gamblers were at risk for alcohol or drug use/dependency and one-half of compulsive gamblers commit crimes.
"We don't want to encourage gambling to prevent these problems to happen," they said.
"Our Church teachings strongly remind us that gambling becomes morally unacceptable when it deprives 'someone of what is necessary to provide for his needs and those of others,'" said the Church leaders.
"As Church, we are not against development but it should be a development that is both sustainable and integral, a development that is authentically just and for the common good," said the prelates.
The the statement was signed by Kalibo Bishop Jose Corazon Talaoc, Jaro Archbishop Jose Romeo Lazo, San Jose de Antique Bishop Marvyn Maceda, Bacolod Bishop Patricio Buzon, San Carlos Bishop Gerardo Alminaza, Romblon Bishop Narciso Abellana, and Capiz Diocesan Administrator Monsignor Cyril Villareal.