A Filipino Catholic bishop who got infected with COVID-19 urged unvaccinated people to avail of the vaccination programs offered by the government.
In a video message from his hospital bed in Lucena, Quezon province, on Monday, November 29, Bishop Marcelino Antonio Maralit of Boac urged the public to join the ongoing "National Vaccination Days."
"Get vaccinated, not only for you but also for your loved ones," said Bishop Maralit. "When you join the vaccination program, you are not only helping yourself, you are helping our society," he said.
---
---
---
The 52-year-old bishop assured the public that he is recovering well and attributed his mild condition of COVID-19 to the vaccine.
"It is very difficult to have COVID and I am one of the witnesses to it," he said as he thanked doctors and health workers who took care of him and others who are sick.
The Philippines' "National Vaccination Days," which started on November 29 and will continue until December 1, aims to vaccinate at least 15 million Filipinos during the three-day activity.
COVID-19 cases in the country continued to dip on Monday at 665 — the lowest single-day tally reported by the Department of Health in over 16 months.
It was the smallest rise in the case count since July 14 last year, when the number of new infections stood at 634.
Official data show that 48.1% of those currently sick exhibit mild symptoms, 6% are asymptomatic, 23.82% are moderate cases, 15.6% are severe, and 6.6% are critical.
The death toll also reached 48,501 with 141 new fatalities. Meanwhile, 993 were added to the survivor count, which climbed to 2,767,585.
Based on the bulletin, 32,639 COVID-19 tests were reported on Nov. 27 — lower than in the last four days, with a positivity rate of 2.1%.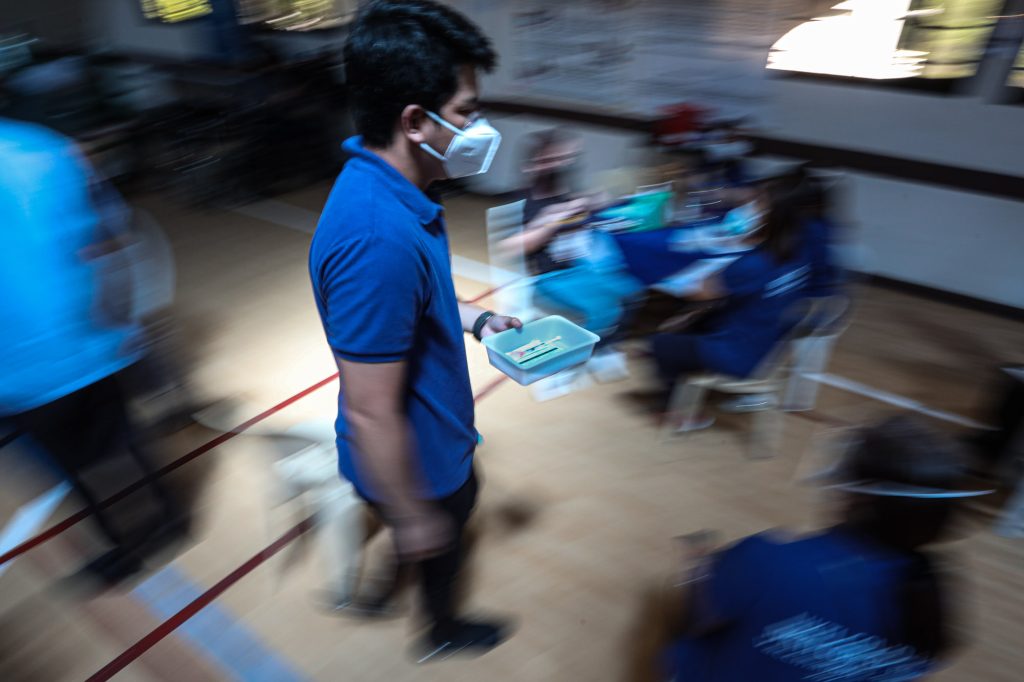 The Philippines has temporarily suspended a decision to allow fully vaccinated tourists entry in a bid to prevent a new, heavily mutated coronavirus variant taking off in the country where most of the population remains unvaccinated.
It comes as the Southeast Asian nation on Monday launched a three-day vaccination drive targeting nine million people as young as 12 in an effort to accelerate the roll-out of jabs.
So far, the country has not reported any cases of the Omicron strain, which was first detected in South Africa and has since spread around the globe.
Manila announced plans last week to allow fully vaccinated tourists from most countries to enter from December 1 as it seeks to revive the nation's battered economy.
But the government's COVID-19 task force reversed course over the weekend as it announced the suspension of flights from seven European countries, in addition to an earlier ban on arrivals from several African nations.
"The IATF deemed it necessary to suspend the entry of foreign tourists, given worldwide concerns over the Omicron variant," Bureau of Immigration commissioner Jaime Morente said Monday, using the acronym for the task force.
The decision is a major blow to tourism operators across the archipelago nation, which have been devastated by a plunge in international visitors and restrictions on domestic travel since borders shut in March 2020.
Tourism is a major driver of the country's economy, accounting for nearly 13 percent of gross domestic product in 2019, when more than eight million people visited, official data shows.
That slumped to 5.4 percent last year as tourist arrivals plummeted 82 percent to 1.48 million. – with a report from AFP and CBCP News