A little more than a year after the military coup d'état in Myanmar, the repression and military operations have not stopped. After the failure of peaceful protests, some people have joined the armed struggle.
Civil war has spread across the country and today no city is spared from the fighting. In December, the military junta bombed Loikaw, the capital of Kayah state where a large part of the Christian population is concentrated for a week. 
The clashes resulted in an exodus of refugees. According to UNHCR data, there are over 400,000 internally displaced persons, some of whom have managed to flee to India or Thailand.
The PIME Foundation has decided to open the  S145 Myanmar Emergency Fund to support the initiatives of local Churches in favor of the refugees. The goal of the campaign is to give immediate help to thousands of people supporting the reception network that the dioceses of Taungoo and Taunggyi are setting up. Information on how to donate can be found in this link .
Even for those who have managed to cross the borders, the situation is equally difficult. 
Below are the testimonies of some Karen refugees who took refuge in Thailand, forced to leave their lands around the village of Lay Kay Kaw, in the Myawady area. Now they live in precariousness because they are under threat of expulsion by Thai authorities. A return to their homeland would expose them to retaliation by the military.
---
---
"When the fighting started, I thought of nothing but running, in tears, convinced that I would be killed and that even if I survived I would find myself powerless to rebuild my life because we lost everything. For some time, all three families stayed together in the same house without daring to go out, and we could not help but encourage each other to pray to God until, in a fortunate way, although separated, we managed to get away. 
I am 45 years old and I am originally from the Delta region (Irrawaddy) but a few years ago I moved to Lay Kay Kaw, which I had to abandon due to the frequent clashes between the Burmese soldiers camped in the towns and the Karen soldiers who live on the mountain.
It is dangerous to come into contact with the regime's military. Before the fighting they came to search every house and where they could not find the heads of the families they destroyed doors and windows.
When we left we were more numerous but once we crossed the border some separated and we were left with 29 families with 30 children under 15 years old. We do not have medical assistance and for the most serious cases we have to go to a clinic in Kyaw Keh, in Myanmar. 
Before I escaped, I made my living cleaning in the hospital, but now I've lost my job and have only my pillows with me. Now I live in Thailand, just across the river, but soon I will be forced to leave like others because they only gave us a few days to complete the agricultural work of those who were able to have some land to cultivate during their stay. It is unthinkable to return, however, because the risk is too high across the border. I have to live separated from my family, with my children still in Myanmar, fleeing the fighting.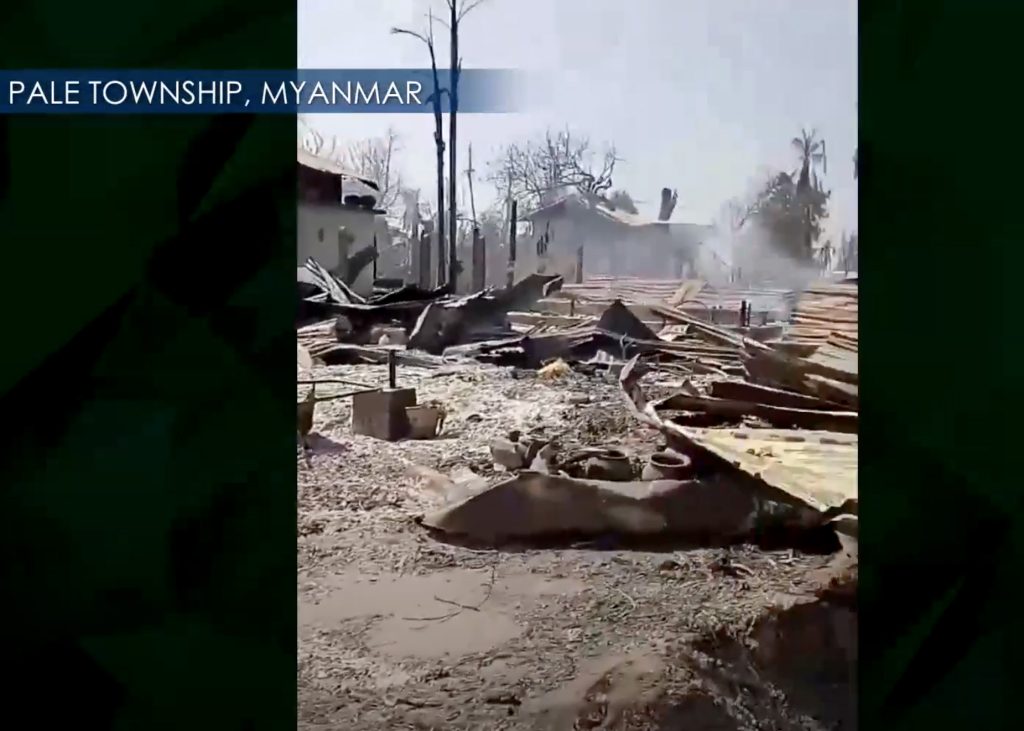 Everything was on fire and with 200 other people we fled to an area called 'Camp 1' where we stopped for five days and then with the help of Karen soldiers we moved into the forest, but only for a short time, because not even them could guarantee our safety. In another village we found someone who knew some Karen already settled in Thailand and through them we arrived here where we have been for a month, hiding from the Thai authorities. We still feel in danger and are constantly on alert because we have no documents. I don't know how to contact my mother and brother who we separated from in the escape and who I know are hiding in the forest near Lay Kay Kaw. 
"I am 33 years old and I am a farmer. I am a Christian and my village is located a few kilometers from Loy Kay Kaw, near where the fighting started. We are in a territory controlled by the Karen army which, however, often does not intervene so as not to provoke retaliation or the loss of the crop for farmers. 
We had to wait some time after being taken to the river bank, until a village chief on the Thai side took pity and arranged for us to pass on a small boat. I crossed the border on December 19, carrying only one bag for me and my three children, one of whom was small. We are now hiding in a village house with other women and children.
I left behind me the corn and legumes that I could not harvest and I am worried, because if the Burmese military were to burn the crop I would lose a year's income.
We would like to go back but those of us who came back to observe the situation saw the military even closer and reported that they are shooting at people. The Karen army advised us not to return but some have not been able to do otherwise to collect what has matured in the fields. For us the situation is complicated by the fact that I am the wife of a Karen soldier and if we return home we could be killed.