The social action arm of the Catholic Church in Malaysia has joined the global appeal for help for Ukraine, which has been devastated by the ongoing invasion of Russia.
In a statement released on Friday, March 18, Bishop Bernard Paul, president of Caritas Malaysia, urged Catholics and "Malaysians of all walks of life" to support the humanitarian work.
"The world is deeply concerned by the war that is being waged in Ukraine," read the bishop's statement.
"We are told that to-date more than two million people have fled their homes as refugees, not counting those displaced, wounded, killed and missing, including children," he added.
"Together, we stand in solidarity with the people of Ukraine and pray for peace in the region," wrote Bishop Paul.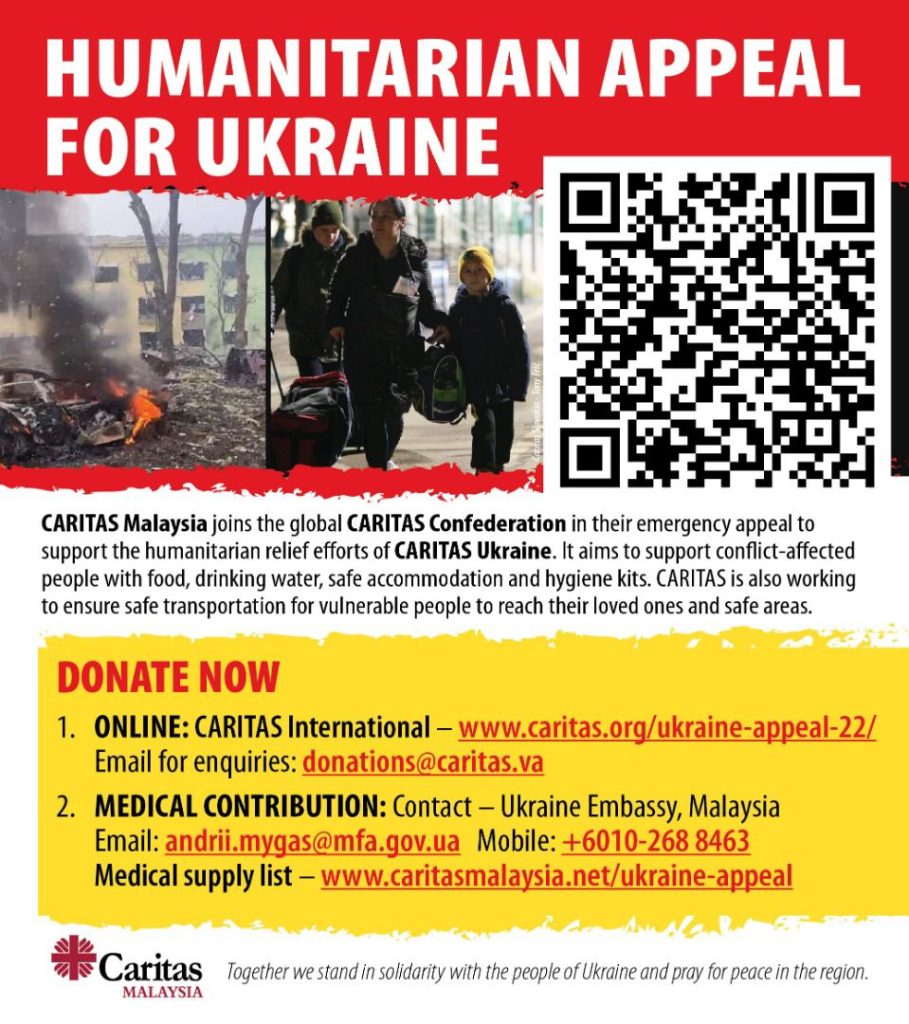 Caritas Internationalis, the global Catholic confederation of charities, has earlier launched an emergency appeal to support the humanitarian work of Caritas in Ukraine.
The campaign aims to support conflict-affected people with food, drinking water, safe accommodation and hygiene kits.
Caritas is also working to ensure safe transportation for vulnerable people to reach their loved ones and safe areas.
Caritas Internationalis launched the emergency appeal to provide relief to Ukraine after Russia invaded the country on Thursday, Feb. 24.
"We cannot ignore the tragic humanitarian implications of this war," said Caritas Internationalis secretary general Aloysius John in a statement.
"It is the duty of the international community to protect the Ukrainian people and ensure their access to lifesaving assistance," he said.
Since 2014, Russia and Ukraine have been engaged in a conflict that has killed more than 14,000 and displaced over 1.5 million people.
Caritas Internationalis, a confederation of more than 160 Catholic aid organizations that work at the grassroots level around the world, explained that the ongoing conflict, compounded by the coronavirus pandemic, has made the situation on the ground especially delicate. – with a report from CNA