If anything could be considered a silver lining during the pandemic, it was technology that enabled people to practice their faith from the confines of their homes.
In India, churches, which did not even have a camera, turned digital after March 2020 when the world, communities, and homes started to close borders because of the virus.
The faithful were provided the opportunity to choose programs and services from around the world to attend online.
The live-streaming of church activities and celebrations became the norm.
---
---
Even Pope Francis urged Church communicators, in a message ahead of the SIGNIS World Congress this year in Seoul, to make "digital inclusion" a priority.
He said that during the lockdown, "we saw how digital media could bring us together … bridge the loneliness of isolation" and unite whole families and ecclesial communities "in prayer and worship."
Broadcasting church services online helped community members to get involved in parish activities.
Elizabeth John, who spent long years in the United States, said she felt good attending church services that were live streamed from the Sacred Heart Cathedral in Delhi where she spent her childhood.
"It took me down memory lane," she said, adding that it was "a double delight" to see the "singing priest" of the early eighties — Father Anil Joseph Couto — celebrating the Holy Mass as archbishop of Delhi.
Marlyn D'Silva said she liked the opportunity to attend the celebration of the Holy Mass presided by different priests. "Sometimes one is put off by the style and sermon of priests in one's parish," she said.
For Mariamma Kizhakaveetil from southern Kerala state and Josephine Lakra from eastern Jharkhand, and for so many others who live outside their home states, it was a boon to attend Mass in their native language.
Technology also offered the opportunity to "digitally visit" churches across the country and around the world, said banker Dominic Xavier.
One is not bound by any schedule because the programs get recorded and one can watch at his or her own leisure, said Trevor Wills, a teenage who said he hates to get up early to attend Mass.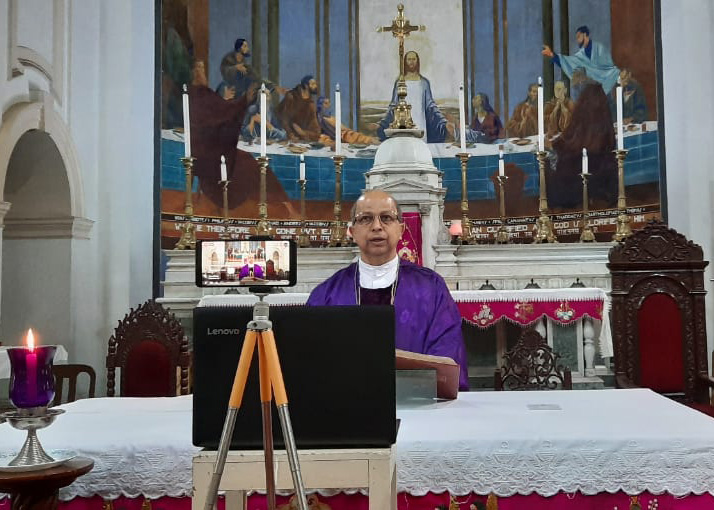 Violetta Scolt, a former president of the Council of Catholic Women in Delhi, said attending liturgical celebrations presided by the Holy Father has become a "treat. Now that she is in Canada, she said it is sheer joy to see old acquaintances in the pews of her parish or in the cathedral in Delhi.
"We are more concentrated on the Mass. Otherwise our attention is directed toward mundane things, such as what one would wear, what hair style to sport, etc.," said Helen Fernandez from Delhi.
She said the online services also helped youngsters for whom it is "unfashionable" to go to church but are interested in spirituality.
Technology also made the sick and the physically unable to attend Mass from their homes.
There have been pitfalls, however.
Jerome George noted that people tend to multi-task and not maintain the sanctity of the Holy Mass while some now avoid going to church.
While online celebrations and church services were a blessing during the pandemic, its impact on people's faith practices has caused concern for some priests who noted low attendance in churches.
Father Joseph Edattu, director of the Divine Retreat Centre in the United Kingdom, said the Holy Mass is the celebration of the Last Supper. "You cannot have a virtual supper and, therefore, in-person attendance in church for the Eucharist is a must," he said.

Online offerings are meant to catechize, he said. It should not be taken as a substitute for the Holy Mass, said the Vincentian priest who, with his many virtual offerings that garnered millions of hits from around the world, has virtually set up an ecclesiastical library in cryberspace.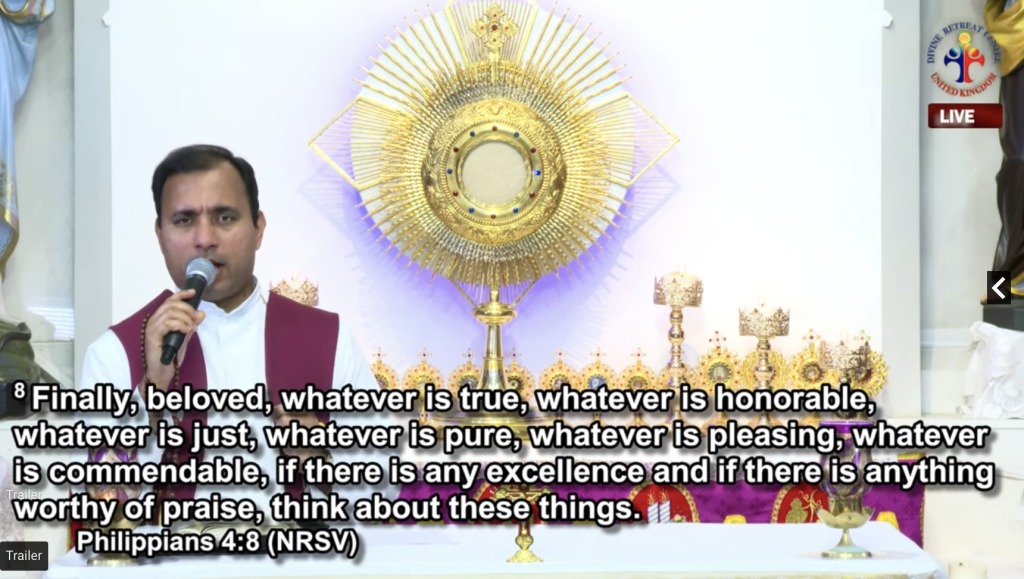 Father Edattu's live online retreats during the pandemic started with about 15,000 hits daily. Within 24 hours, it increased to over 60,000, with some celebration going above the million-mark within a week.
His subscriber base skyrocketed from a mere 20 when he started on March 13, 2020, to 256,000 as on July 27, 2022.
Father Edattu, who attracted the younger crowd in his Facebook live streams, said the "millennials" became his "greatest consumers" of live content during the lockdown.
"Now, we continue to see an uptick in their participation," he said, adding that the live streams, which offered a message of hope amid the trying times, had a "positive effect" on people's faith.