Bishop Samson Shukardin of Hyderabad cannot shake the images from his visit to the flood-affected Catholic village of Mariamnagar in southern Sindh province early in September.
"Instead of protecting themselves, the locals had placed mosquito nets on their livestock. The goats and cows are their source of income, as well as milk. It is very difficult to spend a single night in flooded villages due to mosquitos," he tells Aid to the Church in Need (ACN).
"All Church-run schools in the swamped rural areas are closed, their furniture is destroyed, and the walls are leaking. I was born in Hyderabad, but I have never seen so much rain in my life."
---
---
The prelate refers to the unprecedented rainfall patterns during July and August coupled with the glacial melt in northern areas that triggered massive floods. A total of 2,016,008 houses were damaged while 1,596 people and 1,040,735 animals were killed. A recent official study has revealed large-scale devastation of commercial crops and a combined loss of US$1.7 billion.
The affected properties include some owned by the diocese, which were leased to Catholic farmers. Unable to pay their leases or their loans, Bishop Samson has allowed the payment of the debts to be postponed until the situation improves.
Patras Baagh, 65, grows cotton and okra on 10 acres of diocesan land and had completed this year's first harvest in late July. "The crops were thirsty during record summer heat when agricultural water was provided only once a month. Now they are rotting under six to eight feet of water," says Baagh, who has now been saddled with a debt of more than US$1,350.
"The mosquitoes returned after a day of fumigation. The children are now being plagued with throat infection, malaria, dengue, and skin diseases. We don't have money to buy schoolbooks."
His family now sleeps under the open sky since their mud house was damaged in the downpour.
The family of Asif George and 25 other Christians lived in chak (village) No. 6 in Sindh province. He is presently living under a Shisham tree, to which his goat is also tied: "We moved to a hill after the boundary wall of our mud house collapsed but it was too hot under the open sky. We are unsure of our future. The cotton crop has rotted after the first harvest, and the sugar cane is being ruined," the Catholic farmer tells ACN.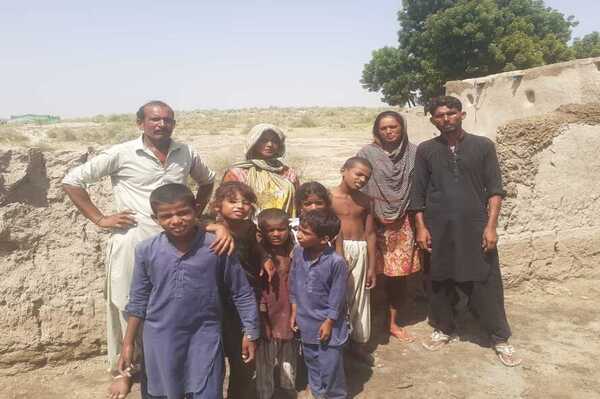 Elsewhere the disaster has left poor people indebted to rich landlords (waderas) who own hundreds of acres of farms cultivated by ordinary peasants who are only entitled to a small share of the harvest.
"Nobody can compete with the waderas. Sadly, the poor are always affected by annual flooding. Most of the affected include those living illegally in dried riverbeds. Generations of poor peasants are already under bonded labor," says Bishop Shukardin.
"It's a serious situation; I am concerned about the coming months. The destruction continues after the torrential rains. A solidarity visit by clergy or religious is a great source of consolation for those trapped by flood waters," says the Bishop.
Pakistan ranks as the eighth most vulnerable country when it comes to climate change, according to the Global Climate Risk Index. However, the prelate says government indifference is also to blame for the tragedy.
"There is a lack of planning by the provincial government, which is accused of mismanaging the funds. It will take at least six months for the water to dry. There is no drainage system in the villages," he says, adding that there is also discrimination against religious minorities.
"None of the local parliamentarians have helped the Christians affected by the flood. Flood-related aid is also our right," insists Bishop Shukardin.
This is not the first time such an allegation has been made. In 2020, human rights workers claimed biased organizations were hampering provision of food and supplies to non-Muslim minorities during the coronavirus lockdown.
At Bishop Samson's request, ACN committed US$200,000 to provide emergency aid to more than 5,000 families and repair the damaged churches and community infrastructure in Hyderabad diocese. A further US$30,000 will go to the Archdiocese of Karachi to help families whose houses have been destroyed, with 310 food packages and kitchen sets. – Kamran Chaudhry for ACN
Posted with permission from Aid to the Church in Need in the United States