A Catholic priest in Myanmar said freedom to travel has been restricted in the country since the military coup in 2021.
Father Raymond Kyaw Aung told LiCAS News that people cannot travel across the country without a registration card, thus limiting people's movement.
He said every traveler must bring his or her ID wherever he or she goes.
Barricades are also set up in checkpoints on highways and even in town and city roads.
---
---
Police and soldiers man the checkpoints and require drivers to leave their name, ID number, address, and phone number.
"When we visit our friends or relatives in the village or town, we must register our name, ID number, and address at the Administrator's Office," said Father Kyaw.
He said that one time he had to attend a funeral service in a village and had to divulge all his personal data and that of his companions and the reason for their trip to the security people.
He said barricades are removed when officials pass the checkpoints, but these are placed back after the officials are gone.
"People feel insecure to travel due to the military and security forces," said the priest.
Radio Free Asia reported that no one remained in the villages on the east bank of the Sittaung River in Myanmar's Shwegyin township after junta troops fired heavy artillery and shells.
The report said as many as 200 refugees are now sheltering in each of the town's monasteries where they rely on donations for their daily needs.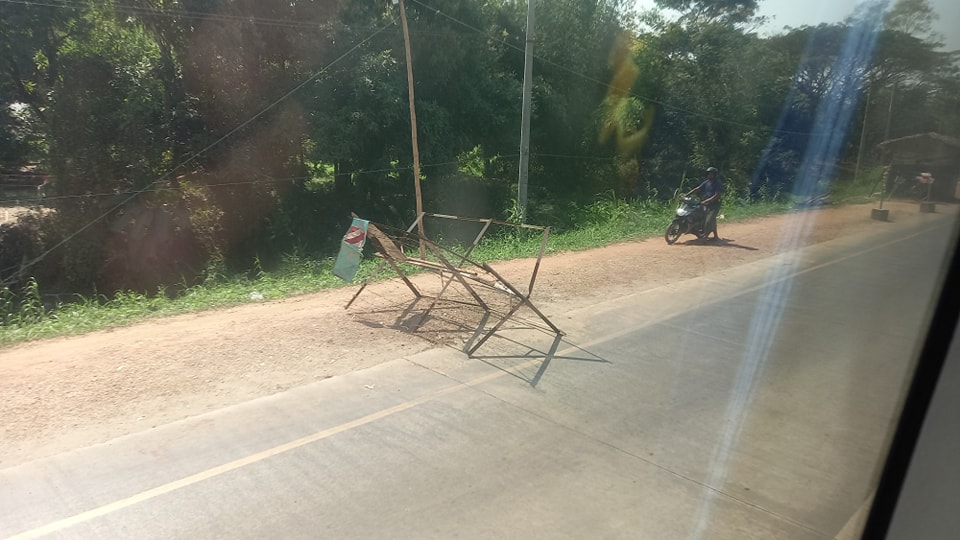 An aid worker who declined to provide his name due to security concerns, told RFA Burmese "there is no one left" in the east bank villages.
"Some of us are staying at our friends' homes. Those staying with friends usually don't get the donations that others do," said the source.
"Others are staying in refugee camps, so donors know their exact number and can provide help for all of them," he added.
The refugees in Bago join hundreds of thousands of others who have fled conflict throughout Myanmar since the military's Feb. 1, 2021 coup, leaving the country mired in what international rights groups and aid organizations say is a humanitarian crisis.
According to the latest situation reports published by the United Nations Office for the Coordination of Humanitarian Affairs on March 4 and March 21, the number of war refugees in Myanmar increased by more than 100,000 throughout the country in the two weeks from Feb. 27 to March 13 alone.
The latest additions – most of whom live in Kachin, Kayah, and Shan states, as well as eastern Bago region – bring the number of those displaced by conflict in the country to more than 1.7 million people, UNOCHA said in a statement on Tuesday.
The ethnic Karen Peace Support Network said on Feb. 26 that more than 180,000 people have fled fighting in Bago's Nyaung Lay Pin and Taungoo townships alone since the takeover.
In Kayin, Kayah and Mon states, in southeast Myanmar, nearly 410,000 people have been displaced by conflict over the same period, according to the UNOCHA, while another 943,000 have fled their homes in western Myanmar's Sagaing and Magway regions and Chin state. – with a report from Radio Free Asia