India's Prime Minister Narindra Modi visited the Sacred Heart Cathedral in the capital New Delhi in time for Easter, a first in his nine years as premier, amid a surge in attacks against Christians by some Hindutva elements.
The prime minister lit a candle before the image of the Risen Christ and prayed with folded hands before the altar. He mingled and sang with children and even took "selfies" with them. He also planted a sapling outside the church to mark the visit.
Modi came to church after the first evening Mass and spent almost half an hour.
---
---
Earlier, Archbishop Anil Couto of Delhi of the Latin Catholic rite, Archbishop Bharnikulangara of the Eastern rites Syro Malabar Church, Syro Malankara Bishop Thomas Antonios Valiyavilayil, and Jervis D'Souza, general secretary of the Catholic Bishops' Conference of India, welcomed Modi who was gifted a statue of Jesus on the cross as a memento.
After the visit, Modi took to Twitter to announce that he had the opportunity to visit the Sacred Heart Cathedral in Delhi "on the very special occasion of Easter."
"I also met spiritual leaders from the Christian community," he said.
An official video of the visit also circulated on Twitter and other social media platforms.
Father Swaminathan said the prime minister came to church to "pray," adding that "religion and prayer cannot be mixed with politics."
"Many dignitaries come to church. On Christmas eve, our president, Droupadi Murmu visited. Many ambassadors of different countries come here to pray," said the priest.
He said Modi reassured the prelates that "his door is always open and they could approach him for any help."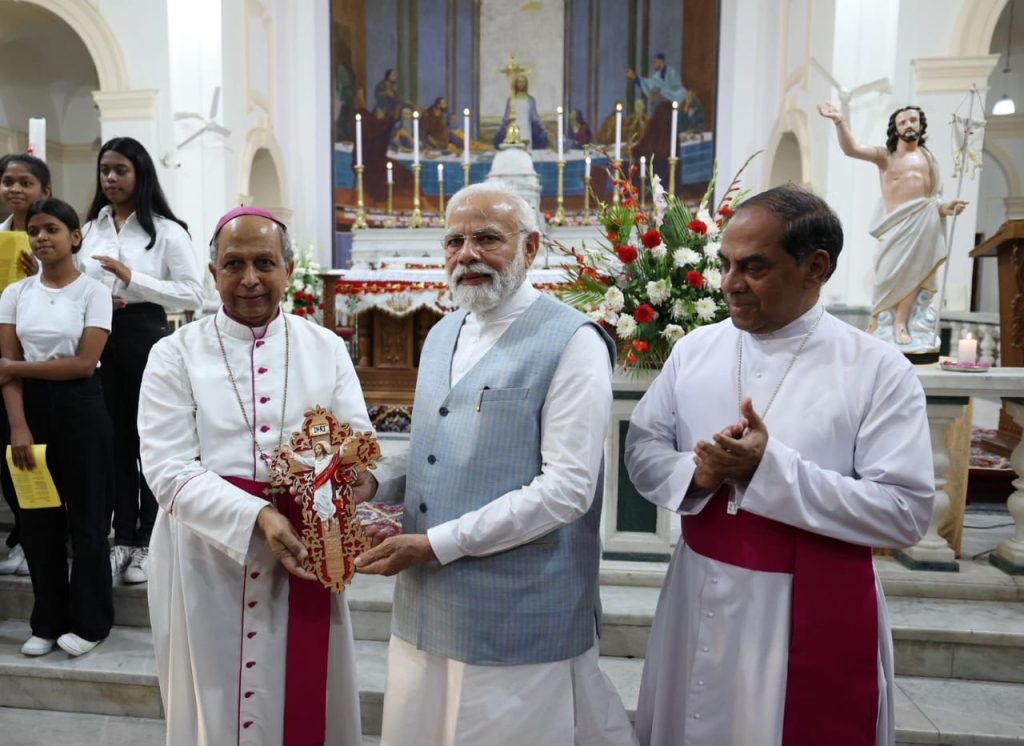 Father Suresh Mathew, editor of the Indian Currents weekly, noted, however, what held Church leaders from raising the "genuine concerns of the community before the rulers when they visit the cathedrals."
The cathedral in Delhi has been the site of major protests in recent months against anti-Christian hate crimes. On February 19, about 20,000 people, including bishops, priests, and lay people, staged a demonstration against hate crimes.
"I think he could have taken this opportunity to tell fringe elements to stop targeting Christians on false allegations of forceful conversions," said AC Michael, convenor of the persecution watchdog United Christian Forum.
"It is a matter of fact that incidents of violence against Christians have increased from little over 100 in 2014 to 600 by the end of 2022," he said. "This year has already witnessed 200 incidents in the first 100 days," said Michael.
The visit has been imbued with political significance as the ruling Bhartiya Janata Party has been actively wooing Christians for votes, specially in Kerala state where the party has no elected representative.
Party activists in Kerala have been visiting Christian families, convents, and churches to deliver Easter greetings.
The recent electoral successes in western state of Goa and north-eastern states of Nagaland and Meghalaya, where a good number of Christians live, has spurred the party to woo Christian votes.
Father Mathew said that with elections coming next year, the BJP has been trying to make inroads in Christian-dominated places.