Many towns and villages in the Philippines are now in the thick of celebrating Flores de Mayo (Flowers of May), a centuries-old Catholic festival in honor of the Virgin Mary held during the month of May.
People from different parishes gather colorful flowers to decorate their churches. Streets are lined with buntings and community games and parades are held, complete with brass bands.
The Flores de Mayo is capped by the Santacruzan (Festival of the Holy Cross), a religious festival commemorating the finding, according to legend, of the Holy Cross in Jesus Christ's Calvary by Saint Helena, mother of Constantine the Great.
---
---
Townsfolk choose the prettiest ladies, dress them in gowns and hold a procession before a night Mass at the local church. The town mayor usually sponsors the event, sometimes hosting a dinner party.
While parish priests are involved in planning and preparation of the annual activities, the Church does not necessarily endorse loud and lavish activities.
Monsignor Andy Valera of the Diocese of Malolos in the northern province of Bulacan said there are two kinds of fiesta celebrations, the secular and the religious.
An example of secular fiesta in the province is the Buntal Hat in Baliuag town celebrated every second week of May.
The festival is designed to promote the industry of hat making from buri palm leaves. It is usually highlighted by a showcase of a giant buntal hat measuring two meters in diameter, and more than a meter in height.
For the second type, Monsignor Valera cited the annual Fertility Dance festival in Obando town and the Kneeling Carabao (water buffalo) festival in Pulilan town.
The Obando Fertility Dance Festival is famous for married women who want to have a child. It is held for three days from May 17 to 19.
"It is religious in the sense that fertility dance are done with prayers," Monsignor Valera said.
He added that even movements of dancers and participants are similar to biblical dances recorded in the Old Testament, like the dance of King David.
"It has religious meanings like the dance of King David," Monsignor Valera said, noting that if a woman wanted a child, her hand movements are toward her.
He said a family friend who wanted to have a child once went to Switzerland for medical treatment but failed. He said his father advised the friend to join the annual fertility dance and a year later, the wife got pregnant.
At least two priests have written separate theses on the religious side of Obando Fertility Dance festival, he said.
The Kneeling Carabao Festival, on the other hand, is held on May 14 in honor of St. Isidore of Labrador, the patron saint of farmers.
Monsignor Valera said training carabaos to kneel in front of the church is the farmers' way of expressing gratitude to God for a yearlong bountiful harvest.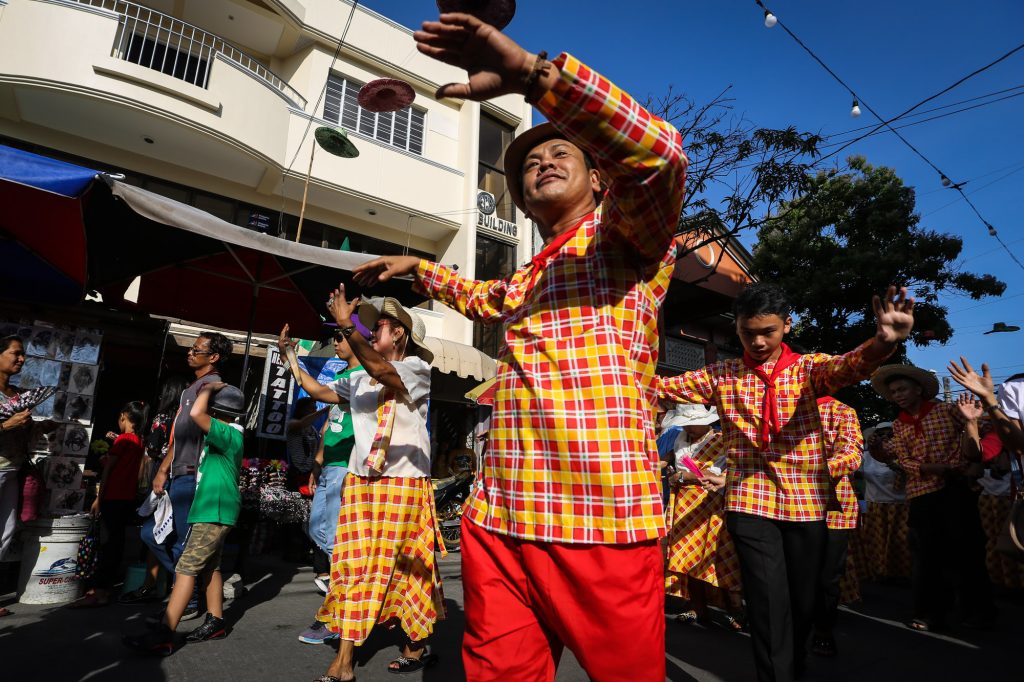 Other festivals held during the month of May are the Turumba in Laguna province, Pahiyas in Quezon, Bawang (garlic) Festival in Ilocos Sur, Gulf Regatta in Davao Oriental, Antipolo pilgrimage in Rizal, Magayon Festival in Albay, Carabao-Carroza Festival in Iloilo, Pasalamat (thanksgiving) Festival in Negros Occidental, Viva Vigan Festival of the Arts in Ilocos Sur, Malakawan Pinya (pineapple) Festival in Laguna, Agawan sa Sariaya in Quezon, Mayohan sa Tayabas in Quezon, Manggahan (mango field) Festival in Guimaras, Pg'salabok Festival in Dipolog, Lubi-Lubi in Misamis Oriental, Pahoy-pahoy in Western Samar and Malumagpak Challenge in Compostela Valley.
While many of these festivals have religious beginnings they are now becoming secular. Most are being promoted as tourist attractions by local officials and the Department of Tourism.
That's why, Monsignor Valera said, there is a need to continue to purify the festivals, noting that the Church is continuously monitoring them.