Military junta authorities are threatening – and sometimes arresting – people who display photos of Myanmar's former leader Aung San Suu Kyi in their homes, residents in Yangon, Mandalay and the Ayeyarwaddy region told Radio Free Asia. 
In Ayeyarwady, soldiers and police often make surprise visits to civilian homes to check for any unregistered guests. If they see pictures of prominent politicians, including Suu Kyi, hanging on walls or stored on mobile phones, they threaten them with arrest, residents said.
"Of course, they have malice toward her," said a resident of Mandalay, where home inspections have also taken place. "Their brainless heads cannot accept the idea of Mother Su or Daw Aung San Suu Kyi. In fact, we the people never like the dictator. We never like the dictator by any means," referring to junta chief Senior Gen. Min Aung Hlaing.
---
---
Suu Kyi is often referred to with the honorific "Daw," which means aunt.
During her 35-year political career, she has been repeatedly arrested and prosecuted by successive military governments. The Nobel laureate is currently being held in solitary confinement at a prison in the capital, Naypyidaw.
Similar arrests of civilians for keeping photos of Suu Kyi happened under previous military dictatorships. Photos of her reappeared in homes after she was released from house arrest in 2010.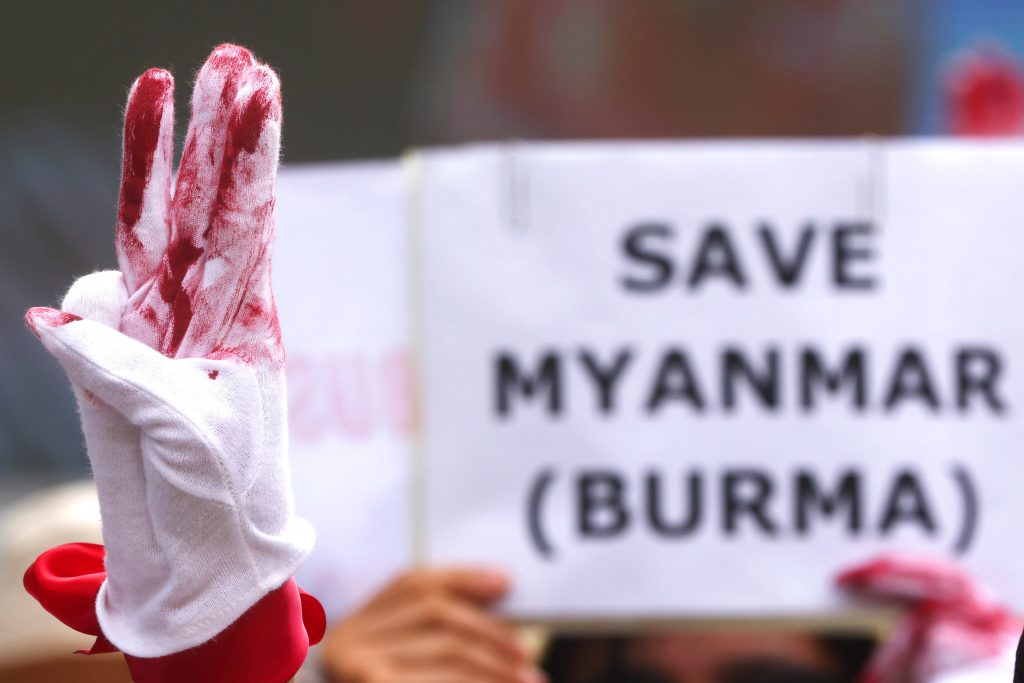 Landslide victory
The practice became more popular after the National League for Democracy formed a civilian government following a landslide victory in the 2015 national elections.
Suu Kyi served as Myanmar's de facto leader after 2015, and some homes also displayed photos of her father, Gen. Aung San, who led the country to independence from British rule in the 1940s and is regarded by many as the father of modern Myanmar.
The NLD also won the 2020 national elections, but the military staged a coup on Feb. 1, 2021, and arrested civilian leaders of the national and state governments, including Suu Kyi, Myint and several dozen other senior officials who were in Naypyidaw for the convening of the newly elected lower house of parliament.  
Since the coup, Myanmar has fallen to the bottom of international rankings for freedom of speech.
Residents in Ayeyarwady, where support for Suu Kyi and the deposed National League for Democracy party is strong, have been living in fear because of the inspections and threats from the military, according to Sin Yan Shin, who heads the local Pathein Guerrilla Force.
"Not many people hang the photos of State Counsellor Aung San Suu Kyi or President Win Myint in their homes as of late," he said, referring to another former leader arrested by the junta.
'Under any law that they name'
A resident of Yangon, the former capital and the country's largest city, had to sign a promissory petition recently because she was found to have hung a photo of Suu Kyi at home, according to a man close to the resident.
"They took him to the police station," he said. "I heard that he had to sign a confession there and come back."
The resident refused to answer many of RFA's questions, saying she was concerned about her personal security.
"They can visit your home by surprise at any time to check if there are any guests," the resident said. "They can take action against you under any law that they name if they see something they don't like."
This week, most of the civilians who experienced threats or arrests over their involvement with photos of Suu Kyi refused to answer RFA's questions as they were too concerned for their security.
"Please keep this confidential," said one person. "Or else, I'll be in trouble."
RFA called a military junta spokesperson to ask about the arrests and threats over the photos, but there was no response. 
Instilling fear
"They are insane," said veteran lawyer Kyee Myint. "Power craziness is the worst. They will do anything to stay in power."
The junta is trying to rule the country by instilling fear in peoples' minds, he said.
"Fear is very bad for people. The military showed many examples of terror to put fear in the people's mind. They suppress people who are scared even more."
Renowned artist Nu Yin, who is famous for her portraits of Suu Kyi, said the lack of freedom of expression was one of the reasons she fled the country following the coup.
"I could guess what they would do to me if I stayed," she told RFA. "They see democracy and democracy activists as their opponents or enemies. They don't know better than to respect human rights. They don't cherish the truth."