Myanmar's military junta has handed down death sentences to at least 156 individuals, including four teenagers, since seizing power in a coup.
Thailand-based Assistance Association for Political Prisoners (Burma) reported that the junta has been increasingly resorting to the death penalty as a means of intimidating opponents. 
Some 42 of these convictions were handed down in absentia.
---
---
An official from the group, who talked to Radio Free Asia (RFA) in anonymity due to security concerns, said the actual number of death sentences may be even higher than reported.
"The military junta deliberately gives death sentences to instill fear in the people. However, the people of the spring revolution will continue to fight against the junta no matter how hard they try to scare them," he said.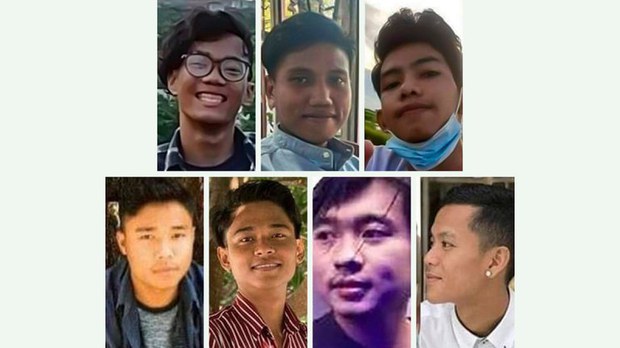 Among those facing execution are several young individuals, including 18-year-old Hein Min Naing from Mon state's Ye township, and three 19-year-olds named Zaw Lin Naing, Khant Zin Win, and Khant Lin Maung Maung from Yangon region's Thingangyun township.
Kaung Set Paing, a member of the All Burma Federation of Student Unions in his 20s, received a death sentence after being charged with incitement and terrorism on April 25.
Kaung Set Paing, who leads the anti-junta North Okkalapa Township Student Union, was arrested in December.
A friend of Kaung Set Paing, who identified herself as Yatu, said she is saddened upon learning that he had been subjected to a month of torture during interrogation before his sentencing.
"A 20-year-old like him would have been enjoying his studies if the military coup hadn't taken place," she said. "But now, he is in a hopeless situation in prison. Since he has been sentenced to death, he could be executed … at any time and I worry about him everyday."
The military junta previously executed four prominent activists in July, marking the first judicial executions in Myanmar in over three decades.
Kyaw Thet, a 27-year-old resident of Mandalay's Wundwin township, also received a death sentence, in addition to a staggering 225 years in prison. He was arrested in Meiktila township in January 2022 and faced more than 10 criminal and terrorism charges.
A person close to Kyaw Thet's family, who preferred to remain anonymous, informed RFA that he is in poor health in Myingyan Prison, suffering from injuries sustained during interrogation.
"He suffers a lot of pain in his legs and faints often, as he sustained head injuries when he was beaten during interrogation," he said. "His family cannot send him any food or necessities as they are fleeing junta arrest."
The family is unable to provide him with food or necessities as they are fleeing from potential arrests by the junta.
Nay Phone Latt, the spokesperson for Myanmar's shadow National Unity Government, accused the junta of committing "murders in prison" through the death sentences handed down to individuals like Kyaw Thet and Kaung Set Paing.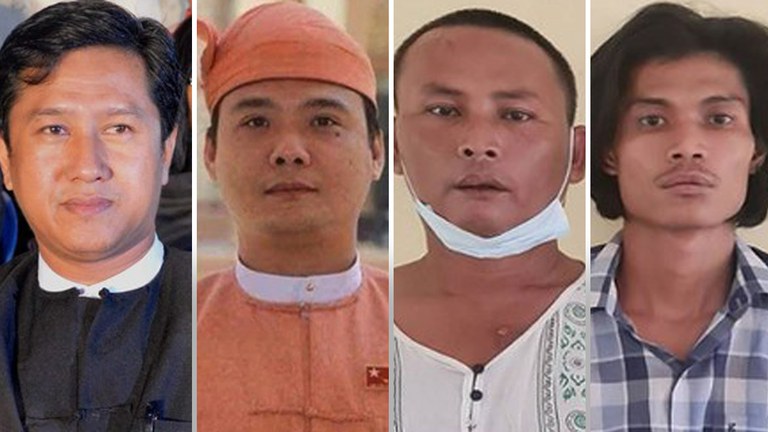 "The terrorist military junta is killing many people in many ways outside prisons in order to stay in power. In the same way, they are committing murders in prisons, too. A legitimate government would hand out death sentences like that," he said.
Thein Tun Oo, executive director of the Thayninga Institute for Strategic Studies composed of former military officials, defended the sentences.
"From a legal standpoint, we cannot complain about such judgments and sentences given under the law," he said. "There certainly is the right to appeal, but whether or not to grant it to those given death sentences depends on crimes they have committed."
Junta Deputy Minister of Information Major Gen. Zaw Min Tun, who also serves as the military's spokesperson, announced in December that those sentenced to death would be executed.
A lawyer informed RFA that these sentences are illegitimate as the defendants were tried in military tribunals without proper defense in court.
"There is only one military court of appeal and if it rejects the appeal, the only option left for the defendant is to file a petition for mercy from [junta] chief [Senior Gen. Min Aung Hlaing]," said the lawyer, who also spoke anonymously.
"Their death sentences are final, as their cases could not be reviewed thoroughly in such a short time. That's why I believe … [they] had very little right to defend themselves," he added.
The lawyer further said that those sentenced to death should have the right to appeal in civilian, district, and plenary courts, including the chief justice and the supreme court.
He claimed that since taking control of Myanmar's judicial system, the junta has manipulated the law to impose severe punishments, including lengthy prison sentences and the death penalty, on those who oppose their rule.