Sta. Lucia village, on the foothills of Mount Banahaw in Quezon province, south of Manila, belongs to the enclave named by the faithful as "Santong Lugar" (Holy Place). 
The sacred place is a spiritual venue for various religious groups and albularyos (faith healers) coming from far and wide. All are devoted to spiritual disciplines.
No environment is more significant for the visiting shamans from Mexico, gifted with the power of ancient healing: Carlos Daniel Ballam, a musician-healer, Francisco "Tako" Diaz, visionary and custodian of ancient wisdom, and Juan Ortiz Bautista, a revered Mara'akame from the Wixa'rika Tribe.
Wixa'rika — meaning the "Children of the Sun" — is an indigenous community in western Mexico, most resilient to foreign influences and which, to this day, continues to preserve its age-old culture and traditions.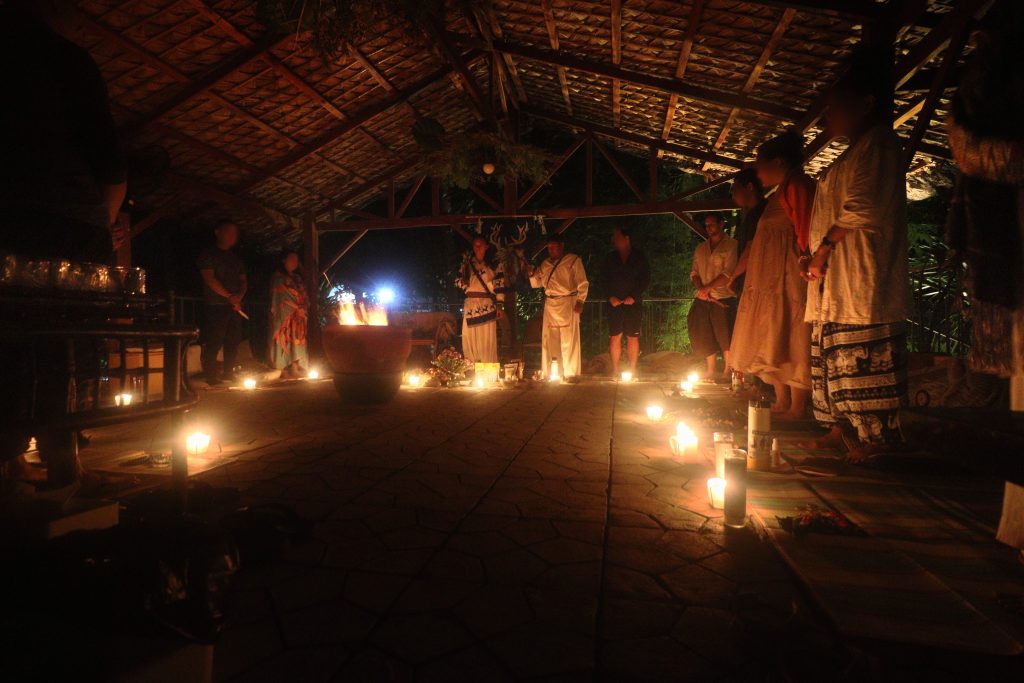 The "Mara'akame" or shaman, is a matching version of the Filipino's albularyo. Engaged in the shamanic tradition of healing, their knowledge is passed on to them from their forebearers thousands of years ago, drawing from the Mayan roots.
The Mara'akame however, is more than just a shaman. He is looked up to as a tribe leader, mentor, and doctor. He devoted himself to prayers not just for the community, but for humanity in general.
The shamans came to Sta. Lucia in August in their quest to share the ancient healing. Joined by local and foreign participants, the session involves spiritual teachings, indigenous rituals, and herbal ceremonies with a cactus plant used and revered for centuries by the Wixa'rika tribe.
– Newsletter -Subscribe to Spotlight (Philippines) for the latest news in the Philippines direct to your mailbox
Francisco "Tako" Diaz, donned in the traditional vibrant Wixaritari clothing complemented by a flashy waistband, lits up the pyre commencing the healing ceremonies.
Miguel, 28, a musician by profession, shares his expectations on the ancient ceremony: "I think that this healing process would be one step towards that feeling of integration of oneness of unity which I think is what the world really desperately needs now."
In the Mayan concept of in lak'ech ala k'in which means "I am another you, you are another me," the expression invokes interconnectedness and oneness. The belief that every action one takes in his/her life causes an effect on all other things.
The Wixa'rika healing tradition is bound by the principle of living in harmony with nature, seeking a balance between the material and spiritual aspects of existence.
In this TikTok age where technology has corrupted our attention from the elemental origins of life, the shamans stand to bridge modernity with nature. Carlos Ballam says their mission is to share the wisdom of living a simple life in harmony with modern nature.
"The way for everybody is to return to their roots. Everything comes from Mother Nature, even your computer, even your phones. This connection, this intellect shows us that everything comes from the energetic world. I mean it's not just the machine that has this capacity. We have the capacity to be telepathic, we have the capacity to download all this information just to be connected in the sacred places. We also live in harmony. Otherwise, you can get lost in this world, in this materialistic world." he says.
Cameron Quin, Australian spiritual entrepreneur and organizer of the event, says he is committed to providing "seekers" with this kind of inner healing. He stresses the need for people to have total control of themselves. To deprogram their minds, and to help guide and reprogram their life on a conscious level of awareness.
"We are here to assist and guide individuals to a journey of deep healing that is required to uncover deep wounds. To uncover the blind spots that we are unaware of. To help individuals go through spiritual transformation, reconnecting to what is actually real," says Quin.
Turning to the ancient teachings, Cameron points to the Mayan calendar which indicates 2012 as the beginning of the Age of Aquarius —the illumination of the dark spots!
"All that stuff is going to push to the surface. Everything. All the wars, atrocities, genocide, and how we treated our fellow human beings are now coming to the surface. The Mara'akame, know this they talk about this. Jesus Christ talked about this," Cameron adds.
He explains how our physical bodies are interwoven under the four elements: Fire, Earth, Water, and Air. Modernization has distanced us from the frequencies of these important energies.
"The Four Elements have been trying to communicate with us for a long, long time. It's time to return to nature and reprogram with the power of these elements," he adds.
The healing session includes ancient Mexican songs and dances accompanied by indigenous instruments central to the methods used by traditional Mara'akame. The melodies resonate with participants' innermost emotions which connect them to the natural environment on a stirring level. Occasionally, everyone would chant Pamparious! — an expression of gratitude to a supreme being.
Juan Ortiz Bautista serves as the channel responsible for releasing an individual's negative energies, employing a unique method involving crystals.
Tako, the sound healer and firekeeper, acts as a conduit for spiritual energy, infusing the setting with an ethereal atmosphere.
The healing ceremonies extended until dawn on the venue grounds, the Banahaw Circle Nature Retreat. A rustic sanctuary designed in communion with the natural landscape of Sta. Lucia.
At daylight, the group proceeds with the cacao ceremony as performed by Carlos Ballam. The herbal practice takes back to ancient traditions where cacao was regarded for its spiritual and healing properties.
Carlos says the cacao ceremony is a culture shared with other community traditions. "We support many traditions, not just from Mexico. We also receive shamans and healers from root tribes from Colombia, Peru, and Brazil. It's a pleasure also to support all these roots traditions."
Though varying from one practice to another, ancient healing traditions are all wired up to one basic convention: reconnecting with nature, with one's self, and with culture.
The Mexican shamans offer the same transformative light, reminding everyone to honor their roots, embrace spiritual essence, respect nature, and find harmony in the intricate tapestry of life even in a world rapidly changing and grappling with the pitfalls of modernity.
As a bearer of spiritual awakening himself, Cameron testifies. "Why society and merely every country around the planet is so screwed right now is because we all have a bunch of individuals who can't control their minds, who can't control their emotions, who can't control their addictions. We're psychopaths. We're out of control. And we're on a cause for jumping off the cliff unless we change and we divert. Which is what we're trying to do here."
Pamparious!