A Catholic school in Bangkok has been shuttered after an 8-year-old boy tested positive for new coronavirus.
Classes at Phraharuthai Donmuang School (Sacred Heart Convent school) in Muang district have been suspended for two weeks over fears the boy may have infected his classmates.
The boy is believed to have been infected by his grandparents, who had recently returned from a trip to Japan's northern island of Hokkaido on Feb. 20. Those three infections, reported on Feb. 26, bring the total number of cases in Thailand to 40.
A school official said the facility would be decontaminated in line with Thai Ministry of Health guidelines.
Approximately 41 people, 30 of the boys classmates and 11 teachers, were asked to self-quarantine for 14 days, while 100 more pupils who came into contact with him were asked to avoid public places, The Bangkok Post reported.
---
---
---
"The school would like to stress that the infected student hasn't shown any sign of coughing or sneezing yet. Also, this doesn't affect just one classroom but the entire school. We are not withholding any information. It is scary but we need to help each other," school director Sister Waraporn Chivaruengroj (ซ. วราภรณ์ ชีวะเรืองโรจน์) said during a meeting with parents.
As a precautionary measure, she said that children in the boy's class would be tested for new coronavirus as they are considered to be in "the high-risk group." Permission to conduct the tests, which entail a nose and neck swipe, will be sought from parents.
Parents of other children enrolled at the school, considered to be in a low-risk group, have been asked to monitor their children for symptoms on a daily basis.
Sister Waraporn said if a fever is detected, they should inform the school, who will then alert the appropriate public health officials.
She further called on parents not to be "selfish" in prioritizing their children's needs over the public health.
"If students had been traveling abroad or shows any signs of COVID19, the school asks that parents keep their children at home and not to worry about the [national] examination," for which the school will seek an exemption, said Sister Waraporn.
"Even if the students remain at home, they are still at risk — just by walking around, we don't know if they had come into contact with any infected persons. But the school also asks parents not to blame infected students who had been to school."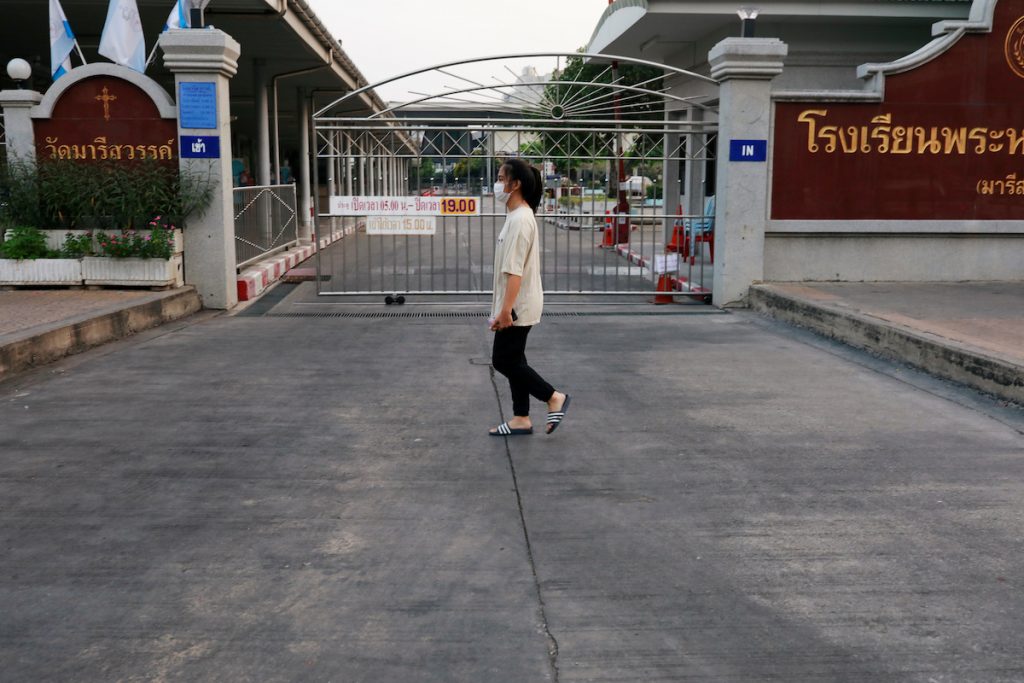 On Feb. 23, Education Minister Nataphol Teepsuwan had put out a request asking that students, teachers, and staff at all schools in Thailand who had visited high-risk countries, including China, Japan, Hong Kong, South Korea, Taiwan, and Singapore, put themselves in a voluntary 14-day quarantine.
The boy's grandfather, however, had lied about visiting a high-risk area and avoided the screening process upon returning to Thailand, The Nation reported. When the 65-year-old was admitted to hospital on Feb. 23 with a cough, high fever, and pneumonia, he continued to conceal his travel history, putting at least 30 hospital staff at risk.
After further tests and questioning, he finally admitted he had visited Japan, and has since been transferred to a government hospital.
His actions prompted the Public Health Ministry to issue a warning on Feb. 26 against people withholding any information which could help contain the new coronavirus outbreak.
"Just because of this case alone, about a hundred people will have to be tested," Public Health Minister Anutin Charnvirakul said.
That announcement follows a decision by the national committee on communicable diseases earlier this week to classify new coronavirus as a "dangerous, communicable disease" under the Communicable Disease Act 2015.
The act gives the government wide latitude over "proscribed persons", including mandatory health checks and quarantines.
Those exhibiting symptoms after visiting a high-risk country are required to inform authorities, and may face one-year imprisonment and/or a fine of up to 100,000 baht ($3,140) for failure to comply.
Anutin said authorities would later decide if the man would face legal action for withholding his travel history.