The coronavirus pandemic has been hitting children hard in many places of the world, especially in South Asia, says the United Nations Children's Fund or UNICEF.
The UN agency said the first wave of COVID-19 infections cost the lives of 228,000 children and 11,000 mothers in the region and warned that the new surge "threatens us all."
"It has the potential to reverse hard-earned global gains against the pandemic if not halted as soon as possible," warned George Laryea-Adjei, UNICEF regional director for South Asia.
He called on South Asian governments to "do everything within their power to stop the devastation," saying the virus is disproportionately hitting children in greater numbers.
---
---
---
Laryea-Adjei said the international community "must step up without delay," adding that it is "not just a moral imperative."
"Every decision we make has the potential to alter the course of this surge – and to either safeguard or endanger the lives of those around us," he said in a statement this week.
The UNICEF official said children are being directly affected by the disease in higher numbers than ever before.
"They are losing parents and caregivers, becoming witnesses to scenes no child should ever see, and being cut off from their schools and vital support networks," he said.
Laryea-Adjei said essential health services for children, including routine immunization programs, are at risk of being compromised.
"If this happens, it will once more be the most vulnerable children and families who will suffer most," he said.
The first wave of the pandemic caused drastic cuts in the availability and use of essential public health services in South Asia.
The World Health Organization has raised alarm over surges in infections in South Asia, with India accounting for over 90 percent of infections and deaths in the region.
India also accounted for 46 percent of global cases and 25 percent of global deaths reported in the past week.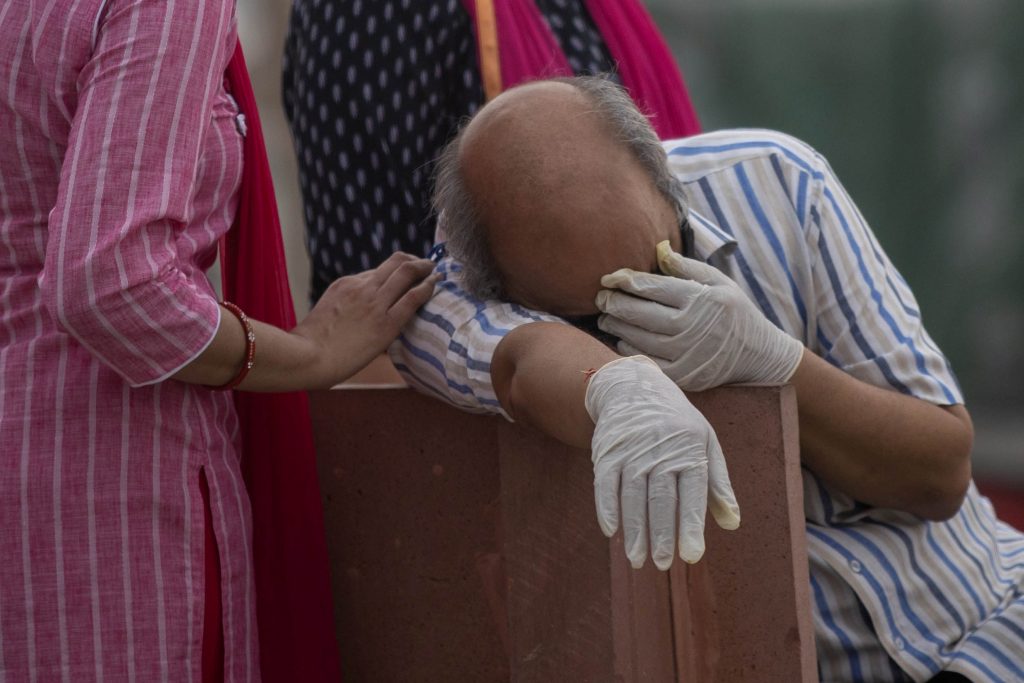 Virus continues to spread in India
Hopes that India's rampaging second wave of COVID-19 is peaking were set back on Thursday, May 6, as record daily infections and deaths were reported and as the virus spread from cities to villages that were poorly equipped to cope.
Government modelling had forecast a peak by Wednesday in infections that have overwhelmed the healthcare system, with hospitals running out of beds and medical oxygen.
A record 412,262 new cases and 3,980 deaths were reported over the past 24 hours, taking total infections past 21 million and the overall death toll to 230,168, Health Ministry data showed.
"This temporarily halts speculations of a peak," Rijo M John, a professor at the Indian Institute of Management in the southern state of Kerala, said on Twitter.
While the capital New Delhi and several other cities have been hardest hit so far, limited public healthcare, including a dearth of testing facilities, means the threat is grave in rural areas that are home to nearly 70 percent of the 1.3 billion population.
In the town of Susner in Madhya Pradesh state, patients were being treated outdoors under trees, on blankets on the ground.
Prime Minister Narendra Modi's government welcomed US President Joe Biden's announcement that he would support waiving intellectual property rights for COVID-19 vaccinations.
Such a waiver would make vaccines more widely available, although it could take months for the World Trade Organization to hammer out any deal.
While India is the world's biggest vaccine maker, it is struggling to produce enough doses. Its two current vaccine producers will take two months or more to boost monthly output to more than 110 million doses from 70 million-80 million. – with a report from Reuters