Pope Francis has again warned against the "old habit of covering up" cases of sex abuse of children "even in the Church."
In a meeting with a group of anti-child abuse advocates on Saturday, the pope said the fight against child abuse has to be done with renewed determination by public institutions, families and educators.
"Even today, we note that the first reaction of many families is to cover up everything," he said.
"It is always there in other institutions, even in the Church," he said, adding that everyone "must fight this old habit of covering up."
---
---
---
He renewed his call for families to fight child abuse, pedophilia, and child pornography, describing it as "psychological murder."
The pontiff said "particular attention" should be made on education "to form a firm conscience in people and eradicate the culture of abuse and exploitation."
The pope made the statement in a meeting on May 15 with the Meter Association, a group that champions the rights of children, especially against child pornography and pedophilia.
Pope Francis said child abuse is a kind of "psychological murder" and in many cases a "cancellation of childhood."
He said the protection of children against sexual exploitation is a duty of all states.
The latest report by Meter Association revealed that there was a sharp surge in child pornography online during the pandemic.
"Pedophilia and child pornography are not afraid of COVID and do not need a vaccine, quite the contrary," it said in a report released in March 18.
"If in 2020 it was everyone's turn to stay at home, this meant a golden business for those who rape children and exploit the material produced with these little slaves of modern times," said the report.
Data compiled by Meter's World Observatory Against Pedophilia showed online hits on child pornography sites had almost doubled last year from the previous year.
In 2020 it showed 14,521 hits against 8,489 in 2019.
The network notes a disconcerting trend that child pornography in video format has more than doubled, from 992,300 in 2019 to 2,032,556 in 2020.
"Evidently 'simple' photos are no longer enough, pedophiles search and produce more videos to satisfy their unhealthy desires, their perversion finds greater satisfaction in movies," said the group.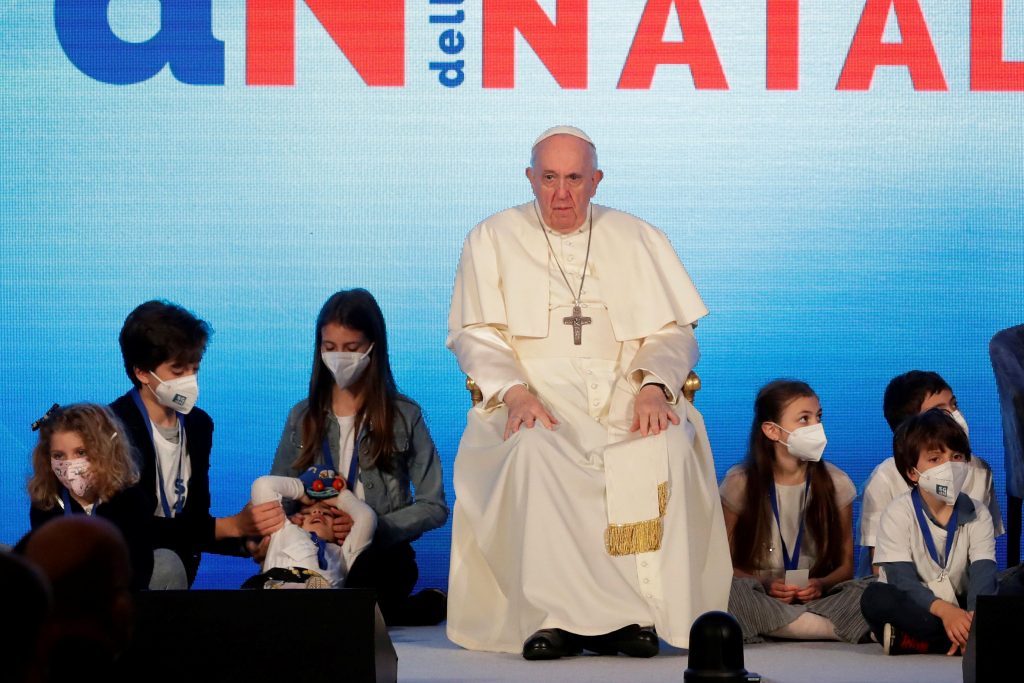 Italy's 'demographic winter'
On Friday, Pope Francis said the cost of raising children was too high and that parents needed more help if countries such as Italy were to overcome the low birth rates that were undermining their future.
Speaking at a conference on Italy's dearth of babies, Pope Francis said polls showed most young people wanted to have children, but were worried about the expense.
"Their dreams of a new life, the seeds of the country's rebirth, come up against a demographic winter that is cold and dark," the pope said.
"For the future to be good, we need to look after families, especially young families, who are beset by worries that risk paralysing their life plans. I am thinking of the fears caused by the increasingly unaffordable costs of raising children."
Speaking at the same event, Prime Minister Mario Draghi said Italy had just 404,000 births last year, the lowest since records began and down 30% on 12 years ago, while deaths totalled 746,000, lifted in part by the COVID pandemic.
"An Italy without children is an Italy that does not believe in itself and does not plan for the future. It is an Italy destined to slowly grow old and vanish," said Draghi.
The question of low birth rates is not confined to Italy. Data this month showed Chinese births fell 18% last year to their lowest since 1961 and the US birth rate declined 4% to its weakest since 1979.
The sharp fall in 2020 in the number of babies born in many countries has been blamed in part on the stress and uncertainty generated by COVID. But the longer-term fertility trends across much of the developed world has been in retreat for some years.
The pope said a shift in values bore some of the blame with modern society putting an emphasis on earning money and building a career, while children were viewed as a "distraction."
"This mentality is gangrene for society and makes the future unsustainable," he said.
He also took aim at young people, saying some role models set a bad example by being obsessed over their appearance and seemingly reluctant to make the sacrifices needed to raise a family.
"You don't stay young by taking selfies .. but from being able to look into the eyes of your children one day," he said.