Thousands of people fled their homes and sought temporary shelter in churches and schools after authorities raised the alert level over the restive Taal volcano, south of Manila, on Thursday, July 1.
Authorities started evacuating people from villages after the volcano spewed a one-kilometer high plume of gas and steam early this week.
Taal is one of the world's smallest active volcanoes. Despite standing at only 311 meters, it can be deadly and an eruption in 1911 killed more than 1,300 people.
In January last year, Taal shot a column of ash and steam as high as 15 kilometers into the sky, which forced more than 100,000 people to abandon their homes, widespread flight cancellations and heavy ash falls in Manila.
---
---
---
While the situation could go either way, authorities warned that the type of eruption could potentially be more hazardous than that of last year.
In the Philippine capital, authorities advised residents to be wary of volcanic smog, which contains sulfur dioxide, that can affect the environment and people's health.
Pro-environment group Greenpeace said "bad air quality has negative impacts on the health of people and the economy."
As early as last year, Greenpeace has already sounded the alarm that air pollution will rebound to pre-pandemic levels as the economy opens up. It is now exacerbated by the erupt of Taal volcano.
The Archdiocese of Lipa, meanwhile, has issued guidelines to parishes on how to provide assistance to displaced communities.
Parishes are reminded to strictly follow health protocols in evacuation sites because of the prevailing coronavirus pandemic.
The archdiocese's social action office also reminds parishes to prepare extra food and non-food items to respond to the needs of the displaced families.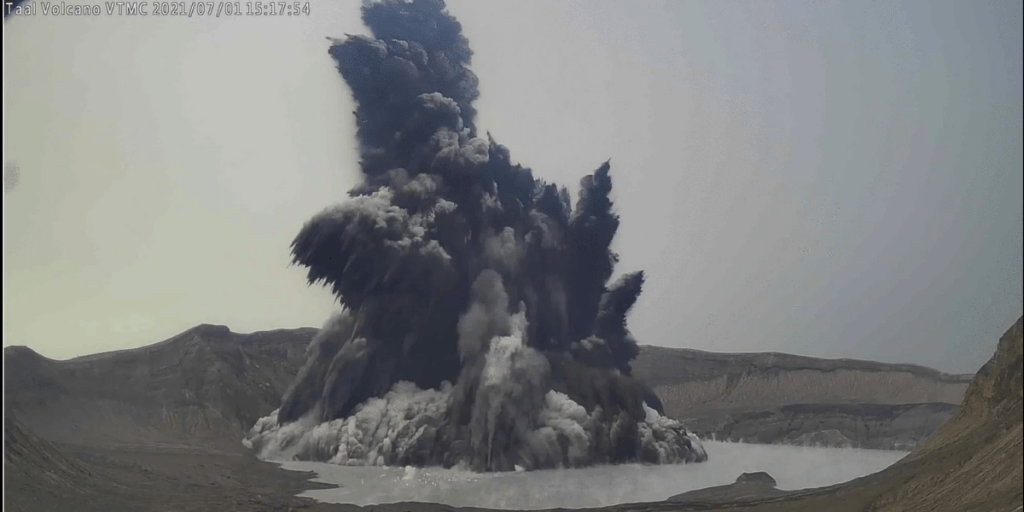 Water in Taal's crater boiled before and after its eruption, reported the Philippine Institute of Volcanology and Seismology.
Magma made contact with the crater's water, which then turned into gas and vapor, known as a "phreatomagmatic eruption," it added.
"Phreatomagmatic is more dangerous because there's already an interaction with magma," said Maria Antonia Bornas, chief of the agency's monitoring and eruption prediction division.
The towns of Agoncillo and Laurel, situated on the lake surrounding the Taal volcano, were in danger from eruption and volcanic tsunami, the seismology agency said.
The national disaster bureau warned of eruption-related quakes.
The evacuation of Agoncillo town started late afternoon on Thursday, Batangas provincial governor Hermilando Mandanas said, with 3,523 families or 14,495 people to be moved to safe areas. – with a report from Reuters