Some 10,000 civilians from Myanmar have been forced to seek refuge along the country's shared border with Thailand amid fighting between junta troops and joint forces consisting of ethnic Karen groups and prodemocracy militias in Kayin state's Lay Kay Kaw township, according to sources.
Residents told RFA's Myanmar Service that on Dec. 15 the military first engaged with a combined group of pro-democracy People's Defense Force (PDF) militiamen and fighters with the Karen National Liberation Army, the armed wing of the Karen National Union (KNU) political group, firing artillery at locations in Lay Kay Kaw's No. 6 Ward, Rathe Gu village and Lay Kay Kaw Waterfall.
The fighting began after government troops entered the area at least six times on Dec. 14, capturing more than 20 political activists, including a member of Parliament for the deposed National League for Democracy Party. The clashes have continued through the week, forcing nearly all Lay Kay Kaw's residents to leave the area, KNU town officials said.
---
---
---
The latest clashes began at around 5 p.m. on Sunday in Phlu Gyi village, forcing refugees who were taking shelter there to flee again.
Lay Kay Kaw Mayor Htee Hpatayar told RFA on Monday that efforts to reunite displaced refugees had been hampered by junta forces shelling the area.
"[The military] opened fire on the mountain range southwest of Lay Kay Kaw and on [Phlu Gyi] village. They seemed to know that the [refugees] are sheltering in the village," he said.
"They are firing heavy weapons around the area to prevent them from staying here. As usual, people run the moment they hear the sound of artillery."
Htee Hpatayar said a list of about 6,000 refugees has been compiled so far and that KNU officials are still looking for those who remain missing.
A temporary camp was initially set up in Htee Mae War Khee village, about four miles from Lay Kay Kaw, on Dec. 15, but fighting broke out near the camp two days later, forcing refugees to relocate to Phlu Gyi, about three miles away.
Now, the mayor said, refugees are fleeing to Thailand daily. Around 1,000 were waiting to cross the Moei River on the border on Monday afternoon.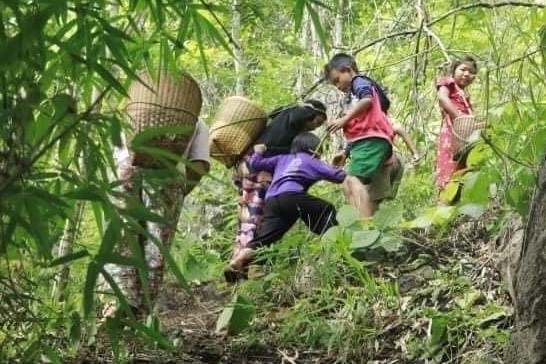 Five days of clashes
After fleeing the Phlu Gyi camp on Sunday night, a refugee waiting to cross the river to Thailand told RFA it was no longer possible to stay in Myanmar because "all the villages in this area are under attack."
"No one can live here anymore. Those who do not want to cross to the other side are now staying near the river in tents," she said, speaking on condition of anonymity. "We heard this morning that there would be new attacks in the coming days."
The number of refugees who have fled to Thailand to escape the fighting in Lay Kay Kaw number around 5,000, and about 5,000 remain on the Myanmar side of the border, she said.
Ko Sai, a PDF member in Lay Kay Kaw, said that fighting is likely to continue as the military is sending reinforcements to Myawaddy township, slightly more than nine miles to the north.
"If the junta forces come into KNU territory, the KNU will not be sitting idly by. They will respond," he said.
Ko Sai said there had been 13 clashes between the two sides in the five days of fighting, resulting in around 60 deaths of government troops.
Karen National Liberation Army and PDF coalition forces said they suffered six dead and 12 wounded in the clashes.
Junta spokesman and Deputy Minister for Information Maj. Gen. Zaw Min Tun told RFA that some soldiers were wounded in Sunday's clashes.
"There was fighting in Mae Htaw Thale, north of Lay Kaw Kaw, at about 10 or 11 a.m. yesterday. It erupted once again at about 5 p.m. Some of our soldiers were wounded," he said.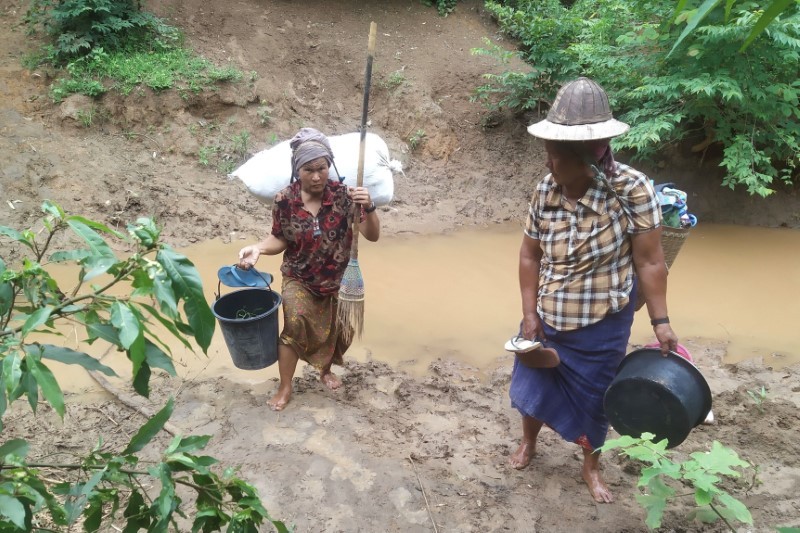 Refugees on the border
Meanwhile, Thai authorities said at least 600 of the refugees who fled Myanmar to Thailand on Sunday have since returned voluntarily. However, Benar News – an RFA-affiliated online news service – reported that more than 1,500 refugees from Kayin state crossed into Thailand in the previous 24 hours alone, citing a statement issued by Thailand's Tak Province Border Center on Monday.
Phil Robertson, deputy director for New York-based Human Rights Watch's Asia division, said Sunday that his organization had urged Thai authorities not to forcibly deport the refugees.
Refugees on the banks of Moei River told RFA on Monday that Thai authorities refused to allow them to cross the border on Monday.
Karen National Union spokesman Pado Saw Tawney told RFA that the KNU has appealed to the Thai government to accept the refugees and called on the United Nations High Commissioner for Refugees (UNHCR) for assistance.
"The UNHCR plays a major role in protecting displaced people, and so it would be more appropriate if they could take responsibility," he said.
"Secondly, we want to request [that the Thai government] let our people … who are fleeing to the Thai side of the border have temporary asylum on humanitarian grounds. It is not safe for them to be forced back. It'd be better to send them back when the situation cools down."
Responding via email to an inquiry from RFA on Monday, the UNHCR's Myanmar office said it was "concerned that thousands of people have been displaced following armed clashes in Myawaddy township, Kayin state," but has been unable to reach affected areas "due to insecurity, access limitations and road blockages."
"We are making all efforts to respond to calls for humanitarian aid and stand ready to support those who need it most," an office spokesperson said. "UNHCR continues to urge that unimpeded humanitarian access be facilitated so humanitarian assistance could be provided to those in need."
Residents told RFA that the number of refugees is likely to increase as fighting continued Monday with more artillery fire from the military in and around Lay Kay Kaw.
Lay Kay Kaw was built in February 2015 with the help of the Japan Nippon Foundation as a symbol of peace between the KNU and Myanmar's nominally civilian government under then-President Thein Sein.
Copyright © 1998-2020, RFA. Used with the permission of Radio Free Asia, 2025 M St. NW, Suite 300, Washington DC 20036. https://www.rfa.org.