Catholic priests in the Archdiocese of Manila in the Philippine capital walked in the rain on Thursday, February 17, to pray to God for healing for the "broken land."
"We are doing a penitential walk today for the sake of our nation and in solidarity with our suffering people," said Cardinal Jose Advincula of Manila in his homily at the Manila Cathedral before the start of the event.
"We humble ourselves and pray in the hope that God will hear from heaven, forgive our sins and heal our broken land," said the prelate.
---
---
The "penitential walk" also marked the 150th anniversary of the martyrdom of Catholic priests Mariano Gomez, Jose Burgos, and Jacinto Zamora.
On February 17, 1872, the three priests of Manila were executed by the Spanish colonial regime on charges of treason and subversion.
Cardinal Advincula expressed hope that the example of the three priests inspire members of the clergy and the religious "to become maka-Diyos kaya makabayan (pro-God to be pro-country)."
He said the advocacies and sacrifices of the three priests "have shown us that social transformation is catalyzed by renewal in the Church."
"As priests and religious, let us be more faithful to the Gospel and to our vocation," said the cardinal, adding that the priestly and religious vocation includes "social charity or political charity."
Cardinal Advincula then led his priests in praying for voters in the upcoming national elections so that they would be able to choose the right leaders for the country.
The cardinal also exhorted the clergy "to be involved in the work of building and transforming our nation."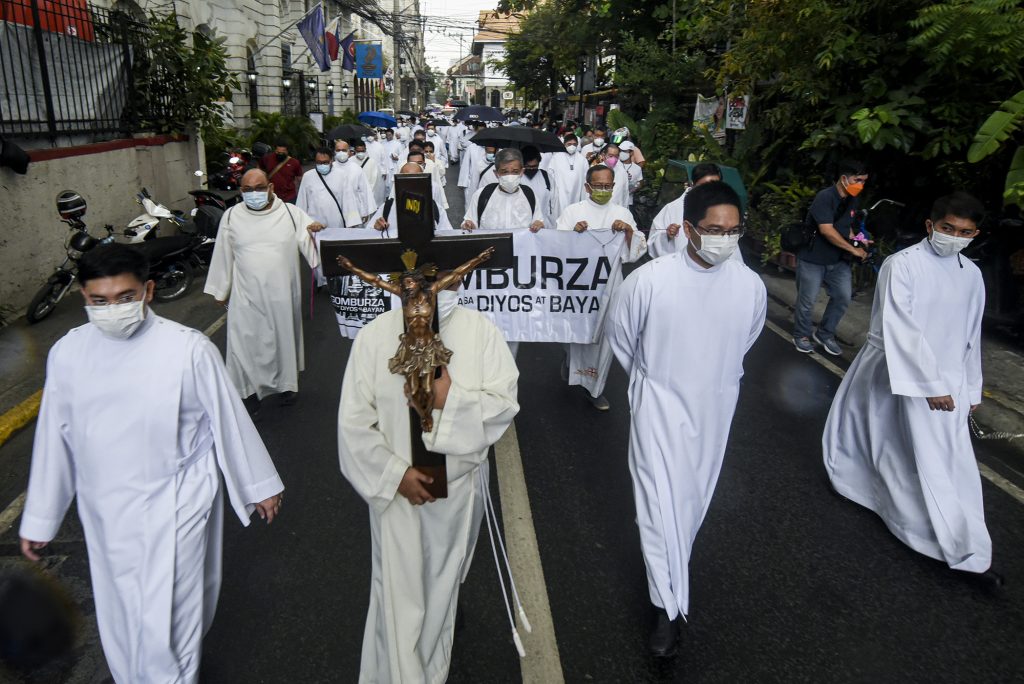 In a statement, the clergy of Manila urged Filipinos to discern their choice well and vote for leaders "who embody and promote the values of the Kingdom of God."
The priests said the "penitential walk" was a "liturgical and devotional activity" and "an act of public worship and piety."
"For us Filipinos, doing acts of "penitensya" or sacrifice is never just for oneself, but always intercessory, that is, in behalf of others and in solidarity with others," said the priests in their statement.
"As a clergy, we shall make this act of sacrifice not only for our personal piety but also for the sake of our people and in communion with our people," they added.
"Indeed, when we were ordained, we promised to pray unceasingly in order to implore God's mercy upon the people entrusted to our care," they said.