Filipino activists, mostly families and victims of rights abuses under the administration of former dictator Ferdinand Marcos Sr., launched on Thursday, July 21, a two-month series of events to mark the declaration of martial law 50 years ago.
"The martial law years were never a golden age of development and progress; it was a period of massive suffering for the majority of the Filipino people," read a statement from the group Campaign Against the Return of the Marcoses and Martial Law (CARMMA).
---
---
The group tagged President Ferdinand Marcos Jr.'s victory during the May 9 elections as "spurious," adding that the claim of a "golden age" that Marcos Jr. wants to bring back is "fake."
"Instead, what we've started seeing as early as their first week back in the palace is the partying for which their family, especially Marcos Jr, is known for the world over," read the activists' statement.
CARMMA said what is golden is the"opportunity to make the people look back in earnest and grasp history as it actually happened, its significance remembered, and the relevance of its message of resistance against tyranny and plunder underscored."
The activist vowed that the movement will continue to counter "all forms of historical distortions and negative historical revisionism."
"With the rallying calls #NeverAgain, #NeverForget, and #TuloyAngLaban, we are committed to turning the tide of disinformation that repackages the Marcos dictatorship as we boldly commemorate the Filipino people's heroic resistance against authoritarianism," read CARMMA's statement.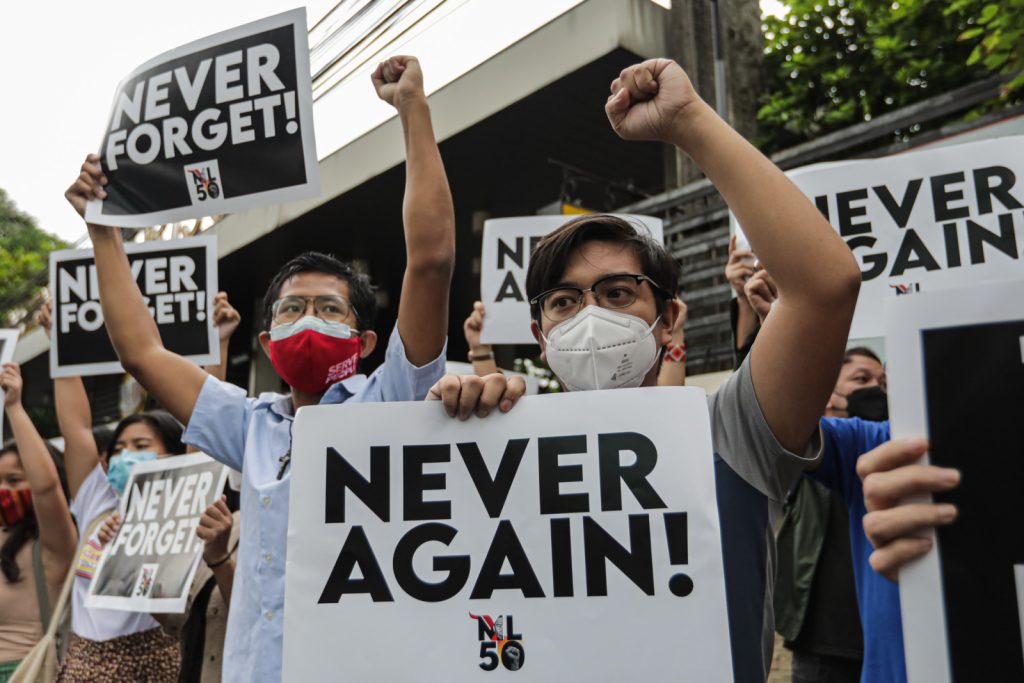 On Sept. 23, 1972, President Ferdinand Marcos Sr. announced that he had placed the entire Philippines under martial law. It marked the beginning of a 14-year period of one-man rule that would effectively last until Marcos was exiled from the country on Feb. 25, 1986.
The formal document proclaiming martial law – Proclamation No. 1081, which was dated Sept. 21, 1972 – was formally lifted on January 17, 1981, Marcos retained essentially all of his powers as dictator until he was ousted.
Marcos claimed that he declared martial law in response to the "communist threat" posed by the Communist Party of the Philippines and the Moro "rebellion" in Mindanao.
Human rights groups claimed that the 14-year rule of Marcos Sr. resulted in human rights abuses marked by 3,257 known extrajudicial killings, 35,000 documented tortures, 77 "disappeared," and 70,000 incarcerations.