(This is Part 3 of an open letter to Jose G. Burgos Jr. former publisher-editor of WE Forum and Malaya, the pioneer mosquito press (opposition newspaper) during martial law. Joe passed away in November 2003 at the age of 63. He was honored with the title "Press Freedom Hero of the World" by the International Press Institute along with 49 others on the 50th anniversary of the founding of IPI.)
Dear Joe:
I remember the raid on the WE Forum on December 7, 1982, eve of the feast of the Immaculate Conception.
Shadows were starting to form. It was late afternoon. As the car that took you and the van carrying the others sped away, I remember distinctly, as if watching a slow-mo movie, the blinking lights becoming smaller and smaller, until the cars turned left.
Then all of sudden, I felt an energy surge, becoming aware that everybody around me was moving fast. I had to go back into the office because one of the uniformed men was nudging me and motioning me to enter. I tried to avoid being touched so I went in.
---
---
The uniformed men were all over, demanding for the keys of the seven Toyota Hiace vehicles and our pickup truck, shooing away curious onlookers as a crowd outside started to gather. In the office, they were escorting out the remaining personnel, bundling newspapers and books, pulling files from steel cabinets, opening drawers, ransacking everything. The officer calling the shots pointed at the newly delivered books "Bad Guerillas of Northern Luzon" as he said, "Pack them all (Itali yan lahat)."
Remember this? You and Ninong Ernesto Rodriguez Jr., your godfather, discussed the need to publish into a book his first hand story, "Bad Guerrillas of Northern Luzon," which was serialized in our newspaper. That the name of Ferdinand Marcos was never mentioned in the book refutes FM's claims of being a hero. When the books were finally printed, in one swoop, the military confiscated them all. I don't even have a printed copy now.
It was impossible to be calm as it was also impossible to protest. The futility was obvious, there were only two of us left inside the office, my cousin Menchu, who was our business manager, refused to leave me. The rest, about 50, were men in uniform.
Outside, I could see television cameras, reporters, a few friends trying to catch a glimpse of what was happening inside. My brother, a seminarian at that time, later related that there were more than a hundred soldiers in complete battle gear, with long arms outside.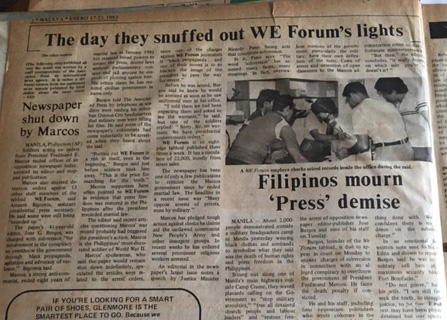 But let me start from the logical start.
In November 1982, I remember how you told me to be ready for any eventuality. Someone informed you how Ferdinand Marcos, speaking to veterans, threatened that "I will let the publisher eat his newspaper" while holding a copy of WE Forum in his raised hand.
It was the talk among media friends that articles by Bonifacio Gillego published in our newspapers, among them "Marcos: Hero of Kiangan who never was" with subhead "He exploits honors he may not have earned," would trigger a reaction from the government.
We published the 11-page report originally intended for the Washington Post. Gillego, by painstakingly interviewing former war guerrillas and corroborating their statements with records in the US Army archives wrote that Ferdinand Marcos' World War II medals were fakes signed and concurred in by Col. Romulo Manriquez and Capt. Vicente Rivera, the commander and adjutant, respectively of the 14th Infantry where, Marcos claims, he earned his war medals during World War II. The Marcos files were eventually released from the US Army archives into the US National Archives, where another independent researcher, Alfred McCoy, found them and published his findings in The New York Times.
You said we must "prepare." Part of this was making sure you would always have a companion so that if they took you, there would be a witness. Since I was the most available, I would often accompany you. We didn't want to put anybody else at risk.
I remember, we prepared by explaining to the kids how the situation was getting critical and the first thing we had to do was to get them out of harm's way. During martial law, we heard of stories of kids being used as bait so the parents could be taken by the military. Our kids, now aged 8-16, knew what to do.
We also made a list of people and their telephone numbers ready, in case something happened. The list included lawyers, media friends especially foreign wires, religious, and close relatives. I remember entrusting a copy of the list to a close friend, Ivy Locsin, with instructions, if I was taken too and would not be able to make the calls, she was to call the numbers in the list and inform them that Joe was taken.
In our office on Quezon Avenue where we had our own offset printing press (donated by a patron), my table was at the main entrance like that of a receptionist. This gave me a chance to watch out for the regular visit of our "Tatay," Don Chino Roces (publisher of the old Manila Times and your former boss). He would always greet me with a joke, "Could a poor man beg for a cup of hot water and a few minutes with the publisher?" while twiddling his thumbs. With the cup of hot water he would stir in the coffee he would bring with him and sit in the foyer, while waiting for you. He enjoyed the sound of the running press and the smell of the ink. Under the glass of the table was the list.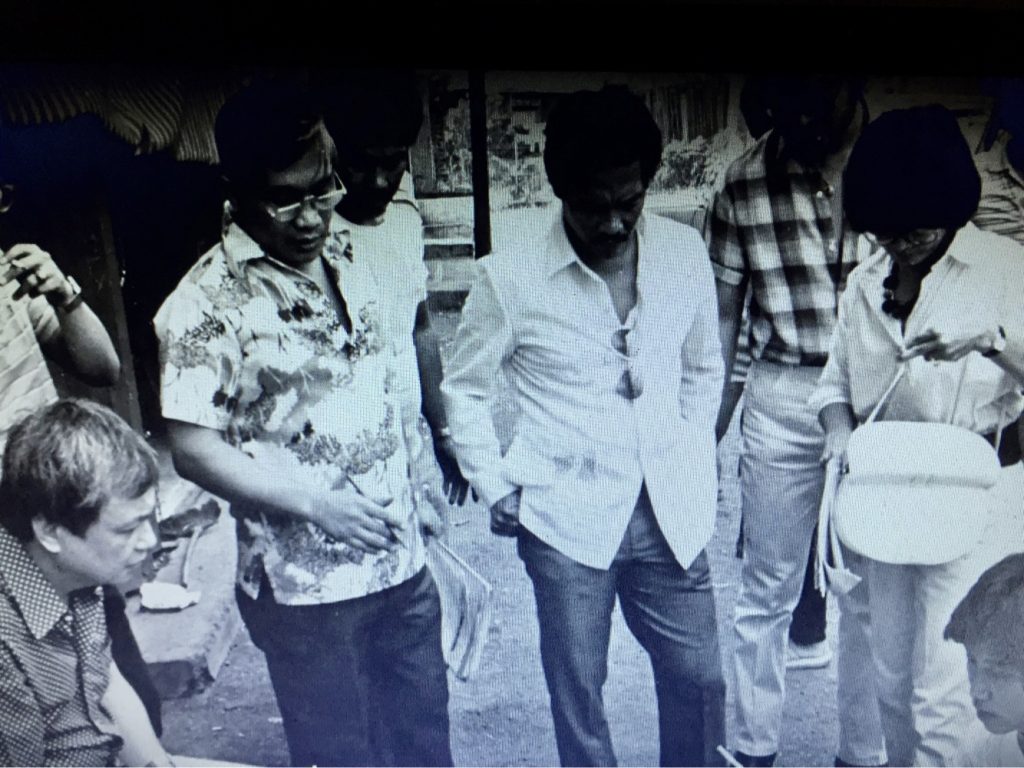 At about noon time, when members of the Metropolitan Command Intelligence Service Group came, it happened that I was at the receptionist's table. Asking me where the office of the publisher was, I led the officers in. I followed them to your office. Do you remember how I peered over your shoulder when they served the Arrest, Search and Seize Order? You looked up at me and said "Moms, yung hinihintay natin dumating na." (Moms, what we have waited for has arrived). That was my signal.
Without a word, I went back to the receptionist's table, and started calling the wires. I just kept repeating, "If you want to cover Jose Burgos being arrested, come to his office right away, the raid is ongoing. I am Edita Burgos, his wife." In a matter of minutes, the parking lot outside the office was full of press people with their cameras trained toward the doors of our office. No one was allowed in.
You knew and you explained it to me that if your arrest or abduction were publicized, you would somehow be protected from disappearance and harm and worse, assassination. Col. Rolando Abadilla (head of the raiding team) was in a rage, asking why there were press people outside. Not noticing that I continued to call people up, I realized that no one noticed me because no one knew I was Burgos' wife.
Calls to religious friends for prayers, to relatives, to bring the children to a safe place, close friends for food for the staff who kept watch outside the office, brought results. A tray of pancit was delivered. At first, the MISG at the door refused to let the one who delivered it bring in the food, asking gruffly, who it was from. When he heard that it was from Locsin, presuming it was from Teddy Locsin the publisher, he got the food and gave it to me. Indeed it was from a Locsin, Raul Locsin, the architect, my kumpare.
Then I called the first name among the lawyers, Sen. Soc Rodrigo. His instruction: "Don't let them take Joe away. Wait till I arrive." Upon his arrival, he demanded to look at the ASSO, which had the lower part covered by another paper. When Sen Rodrigo flipped the cover, he saw the names of those to be arrested: Jose Burgos Jr., Francisco Rodrigo, Armando Malay, Salvador Roxas Gonzales, Ernesto Rodriguez Jr., Raul Gonzalez (Columnists) Crispin Martinez, Teddy Cecilio, (staffers) Angel Tronqued (circulation manager), Eduardo Burgos (production manager), Teodoro Burgos (advertising manager).
I was very apologetic for bringing Senator Soc to the office not knowing that he was going to be arrested. But he just brushed me off and told me to call all the others and tell them it was safer for everyone to come to the office and be taken with the group rather than be arrested alone. They came, except for Raul Gonzalez who claimed he was sick.
After you were taken away, Abadilla kept insisting that I sign a piece of paper, which I couldn't read at first because he kept waving it. Threatening that they would take me to the camp if I didn't sign the paper, I finally saw that it was some kind of certification, stating that all the bundles they were taking away were indeed from our office. My simple answer was, "You don't expect me to sign something that will be used against my husband, do you?" He repeatedly pushed the paper in front of me and I, with a forced smile, repeatedly gently pushed it away.
At that moment, lawyers from MABINI arrived. Led by Joker Arroyo, I remember Rene Saguisag, Jojo Binay, Arno Sanidad and other lawyers arriving just when Abadilla was about to blow his top. Until finally, in his impatience, he clenched his fist and seemed to aim at me but his fist landed on the wall behind me. He couldn't have missed if he intended to hit me or the lawyers who just arrived. The punch caused a gaping hole in the wall, a flimsy plywood.
With the firm yet calm voice and demeanor characteristic of a smiling Joker, the raiders were convinced to follow his suggestion. Every page of every publication and paper they were going to take, would be signed by two witnesses, one from the MISG and another from the WE Forum staff, which was Menchu, and this would be recorded in a logbook which I would use to claim back what they took. Only then would I sign the document.
Realizing that they were tricked because it would take months to record everything, they finally gave up, and at past midnight, they carted the bundles away. I remember, they took not only our newspapers, and our files, but our rice as well. Another took paper clips, scissors, pens from a drawer saying they were used by subversive people. They took all the passbooks and the cash from the finance officer's desk. They even got a piggy bank owned by one of the staff. They stole whatever they could lay their hands on.
Finally, we were all herded out of the office. The doors were padlocked. Guards were stationed outside the building. Two years later, when the raid was declared illegal by the Supreme Court, the padlocks were removed. We found the printing press in a state of disrepair. The chairs and tables were deliberately smashed, legs broken and tops damaged. Not one of the furniture inside was found usable. That was the only time when I shed tears. I saw concrete evidence of the senseless cruelty of people.
Meanwhile, while the raid was ongoing, it was being reported on the news and our youngest, JL, saw you being taken away by men in uniform. Our household help saw a very silent child staring at the television. How can we explain to a child that men in uniform can be bad men too without compromising and damaging respect for authority?
Even when you were in prison, I remember how you were able to assuage the pain and worries in the hearts and minds of our children. Again, this is another long memory. Let us continue to remember that children become the end victims of a tyrannical state.
N.B.
In December 1984 the Supreme Court ruled that the raid on WE Forum was illegal and all evidence gathered were inadmissible being "fruit of the poisoned tree." With the MABINI lawyers, more FLAG lawyers volunteered to defend Joe Burgos and the rest. There were 72 lawyers who volunteered their services for free. Sen. Lorenzo Tañada's law office, represented WE Forum with Sen. Bobby Tañada and Atty. Martiniano Vivo as the lead counsel in the Supreme Court.
Edita Burgos was general manager of the publications WE Forum and Malaya.