Farmers, workers, and climate activists marched in the Philippine capital on Monday, October 17, to mark World Food Day with a call for the government to address the country's "food crisis."
"We call for urgent solutions to the food crisis," said Lidy Nacpil, coordinator of the Asian Peoples' Movement on Debt and Development, in a statement.
She said the rising prices of basic commodities has forced 2.9 million Filipino families to go hungry in the past three months.
"The climate crisis and the surge in food prices are creating a food crisis among Filipino families," said Nacpil.
---
---
She warned that with the "forthcoming droughts and floods," Filipinos can expect that thousands of families will not have access to affordable food.
"The government must prioritize peoples' right to food," said Nacpil.
Protesters demonstrated in front of the Department of Agriculture office in Manila to protest the recent surge in food prices in the country.
They called on President Ferdinand Marcos Jr., who also serves as the head of the Agriculture department, to "prioritize peoples' right to food."
"We also call on the government to act decisively to build robust and climate-resilient food systems that prioritize Filipinos and not the global market," said Nacpil.
Data from the Philippine Statistics Authority show that the country's agricultural and fisheries output declined by almost one percent in the first half of 2022 due to extreme weather events.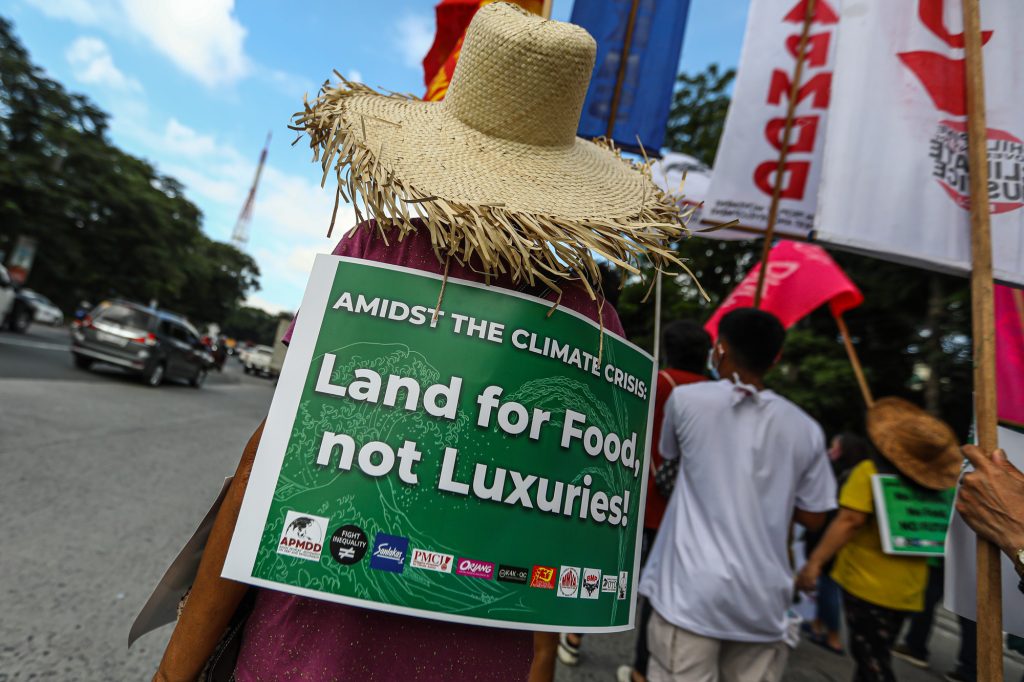 Typhoon "Karding" (international name: Noru), which hit the country in September, left PhP3.1 billion worth of damage to agriculture. About 108,594 farmers and fisherfolk were affected, with a combined volume of production loss of 158.117 metric tons (MT) if rice, corn, cassava, abaca, high-value crops, livestock and poultry, and fisheries.
Nacpil said that with six to nine typhoons expected to hit the country in the last quarter of 2022, "and climate impacts expected to worsen and threaten the food supply of the country," the government needs to respond urgently.
The World Food Programme has reported that conflict, the pandemic, the climate crisis, and rising costs have combined in 2022 to create a global food crisis.
As many as 828 million people go to bed hungry every night, and the number of those without access to affordable, sufficient food has soared — from 135 million to 345 million — since 2019.
A total of 50 million people in 45 countries are teetering on the edge of famine, said the international agency's recent report.