Restrictions and attacks on activists and civil society persisted across the Asian region last year, according to a new report released by CIVICUS Monitor, a global research collaboration that rates and tracks fundamental freedoms in 197 countries and territories.
The report, "People Power Under Attack 2022," shows that out of 26 countries or territories in Asia, seven — China, Laos, North Korea, Vietnam and now Afghanistan, Myanmar and Hong Kong — are rated as "closed." Eight are rated as "repressed" and seven as "obstructed."
Civic space in Japan, Mongolia and South Korea is rated "narrowed," while Taiwan remains the only country rated as "open."
---
---
The report claims that freedoms of speech, peaceful assembly and association "are not being respected in most countries" in the region, adding that 2022 "is the year with more people living in countries with closed civic space ever documented" by the group.
The report, which was released on Thursday, March 16, also states that 28 percent of the world population – approximately two billion people – experienced "extreme levels of repression."
Afghanistan has been downgraded last year due to "severe restrictions on civic space" by the Taliban following their takeover in 2021.
Activists and journalists have been arrested, detained and even tortured. Women rights activists protesting discriminatory policies around education and employment have been met by restrictions and violence, says the report.
Myanmar is also downgraded two years on from the military coup wherein thousands of activists and anti-coup protesters have been jailed by the military junta's secret military tribunals.
The report says the junta has continued to torture detainees with impunity and four activists were executed in July 2022.
Scores of journalists have also been detained while media outlets have been banned. In October 2022, the junta enacted a new NGO law that will further shackle what is left of civil society, says the report.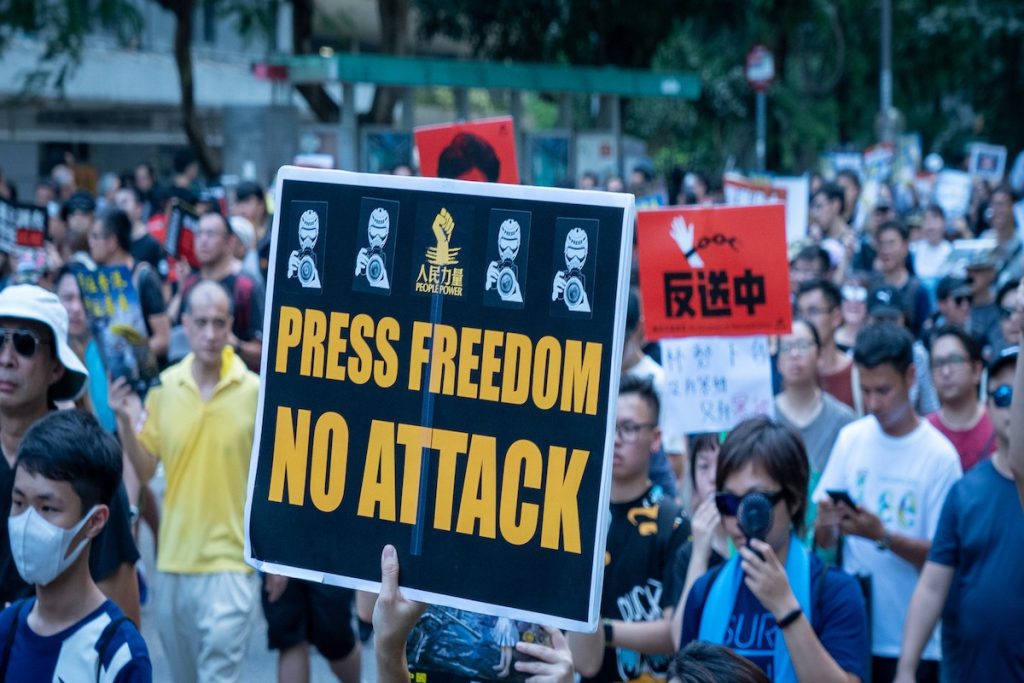 Hong Kong has also been downgraded due to the systematic crackdown on dissent following the passage of the draconian National Security Law in 2020.
More than 200 individuals have been arrested under the security law and dozens of civil society groups and trade unions have disbanded or relocated since the law came into place.
"The regression of civic space across the Asia region is reaching alarming levels," said Josef Benedict, Asia Pacific researcher for CIVICUS.
He said most people in the region are living in countries with closed or repressed civic space "where their freedoms to speak up, organize or mobilize are under attack on a daily basis."
"The downgrading of Afghanistan, Myanmar and Hong Kong's civic space rating this year to 'closed,' highlights how authoritarian states are increasingly gaining ground and the critical need to support activists and civil society from these countries who are pushing back again these repressive regimes," said Benedict.
The top civic violation documented in Asian in 2022 is the use and enactment of restrictive legislation in 23 countries, as governments used the criminal justice system to muzzle dissent.
Among the legislation most often used to stifle dissent include laws related to national security and anti-terrorism, public order and criminal defamation. Human rights defenders were prosecuted in at least 17 countries in the region, said the report.
Another top violation in Asia was the disruption of protests that occurred in 20 countries. In at least 18 countries, the CIVICUS Monitor documented the detention of protesters.
Despite the threats to civic freedoms, the report said "there are some positive developments."
In Thailand, after many years of campaigning, authorities formally charged a former senior park ranger and three subordinates suspected of killing an ethnic Karen activist, while In Indonesia, after years of advocacy by activists and victims groups, the government finally acknowledged serious human rights violations from the past.
In India, the Supreme Court ordered the suspension of the use of the sedition law which has been used as a tool to silence dissent while in Sri Lanka, mass protests led to the resignation of President Gotabaya Rajapaksa who oversaw a climate of repression against activists, journalists and critics.