In a country long bedeviled by coups, Thai voters' resounding rejection of the army-backed government speaks to the deep frustration felt by many after decades of power struggles, protests, coups — and no change.
The campaign pitted opposition parties Pheu Thai and Move Forward Party (MFP) and their promises of democracy and reform against the ageing generals leading the government, among them Prime Minister Prayut Chan-O-Cha who first came to power in a 2014 coup.
Overwhelmingly, Thais cast their ballots in repudiation of eight years of military-backed rule that has seen the once-vibrant economy stagnate, inequality soar, and basic freedoms constrained.
---
---
Support for military-linked parties collapsed from 2019, when the Palang Pracharath Party, a junta vehicle, won the popular vote with 8.4 million ballots.
This time Prayut's United Thai Nation managed just 4.7 million votes, a distant third behind MFP on 14.1 million and Pheu Thai on 10.8 million.
Napon Jatusripitak, a political scientist and researcher at Singapore's ISEAS-Yusof Ishak Institute, said the election was a referendum on Thailand's powerful establishment elites.
"They are tired of military generals," he said, and of a government that was "more responsive to the interests of families or oligarchies, rather than the will of the people."
MFP's shock victory as the largest party in parliament was fuelled in part by the energy of youth-led street protests that hit Bangkok in 2020 and were eventually put down with tear gas, water cannon and rubber bullets.
The noisy, colorful demonstrations shook Thai politics with calls for an end to the status quo in which a powerful military-monarchist-business elite dominates politics and the economy.
'De-militarization'
MFP's youthful leader Pita Limjaroenrat has called for Thailand's "de-militarization," a bold statement in a kingdom long structured around the pillars of military, monarchy and religion.
The party is promising to replace conscription — introduced more than 100 years ago and applicable to all males over 20 — with voluntary service.
"We want to take the military out of Thai politics," Pita told AFP in April.
But the military has a long history of political intervention in modern Thailand, with a dozen coups since the end of absolute monarchy in 1932.
The military is also still woven into the very fabric of Thai political power, Chulalongkorn University lecturer Siripan Nogsuan Sawasdee told AFP.
Many senior bureaucrats in official bodies were appointed under the Prayut-led junta that ruled from 2014 to 2019, Siripan said.
"They tried to install themselves, institutionalize themselves, in the constitution to disguise their authority," she said.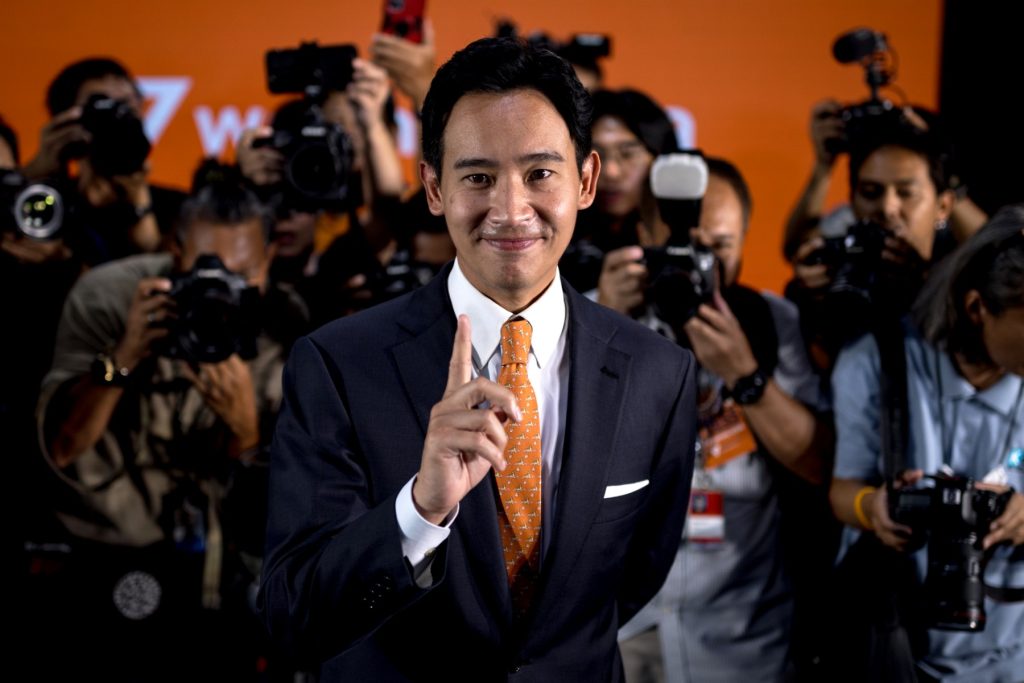 While Siripan was cautious about ascribing MFP's success directly to their refutation of the military, she acknowledged that "it is one of the major reasons."
The election also gave signs that dissatisfaction may be brewing even within the military.
MFP's pledge to remove conscription was the front-facing policy to tackle systemic abuse within the army, political analyst Thitinan Pongsudhirak told AFP.
"The military, the rank and file, as opposed to the officer class — there is a big gap and Move Forward exposed and exploited that gap effectively," he said.
In Bangkok, an area near parliament so closely identified with the military that the main road is nicknamed "Soldier Street" did the unthinkable and voted MFP.
"They would never vote for Move Forward normally but in fact they did," he said.
"It is a sign of the times."
Clear stand
The "orange wave" that carried MFP on — named for its signature color — also swept it past Pheu Thai, the party of billionaire tycoon and former prime minister Thaksin Shinawatra.
This remarkable victory over a political movement that has dominated Thai politics for more than 20 years came partly because of MFP's staunch refusal to deal with coup-makers, Napon said.
Pheu Thai — which led most polls in the weeks leading up to voting day — failed to get their message straight, equivocating about whether they would go into coalition with parties from Prayut's outgoing government.
It worked against them, Napon said, despite their front-running prime ministerial candidate Paetongtarn Shinawatra's father Thaksin and aunt Yingluck both having been the victim of military coups.
"Voters can distinguish between a party that plays games, like Pheu Thai, and a party that is intent on changing the established way of doing things in Thailand," Napon said.