Aid to the Church in Need (ACN), an international Catholic pastoral aid organization, issued an appeal for assistance to Christians "who are fleeing for their lives" in Pakistan.
"[ACN] is on the scene and will assist the Church with its needs… Please help us as we see firsthand, right now, our Pakistani brothers and sisters being persecuted," the charity said in a statement August 18.
The appeal was made after hundreds of Muslim men set fire to churches and vandalized Christian homes during a rampage in eastern Pakistan on Wednesday.
---
---
ACN reported Christians from the Punjab town of Jaranwala, near Faisalabad, fled en masse as "fanatics began throwing rocks and stones and setting fire to buildings".
The incident stemmed from an accusation of blasphemy against two Christians.
Raja Amir Saleem and Rocky Saleem, hailing from the Cinema Basti area, have been charged under sections 295 B and C for purportedly desecrating the holy Quran and penning derogatory remarks about the revered Prophet Muhammad.
Father Abid Tanveer, vicar general of the Diocese of Faisalabad, told Aid to the Church in Need (ACN) that the "situation has been very terrifying".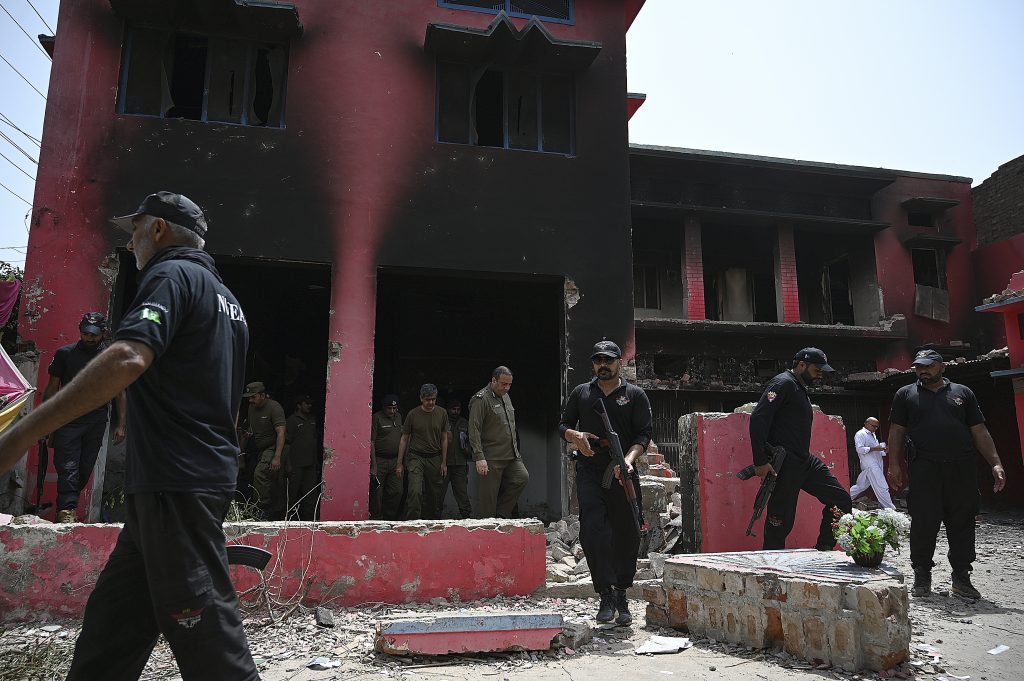 "The Christians are very scared. Please pray for our people, pray that their lives may be protected. So many people have lost their belongings, everything. They don't know what to do or where to go," the priest said.
The priest reported that 13 churches belonging to different Christian denominations had been attacked, a number of them torched, as well as a catechist's house and a parish house.
More than 2,000 people had already fled their homes, according to another ACN source.
The source said that the parish priest of St Paul's in Jaranwala had to lock himself inside the parish house "as extremists surrounded it shouting and demanding he come out".
The mob let the priest leave but they torched baptismal, marriage, and death certificates in the parish office.
According to local witnesses contacted by ACN, the attackers began throwing furniture out into the streets while calling for the murder of the alleged blasphemer.
An ACN source in Faisalabad reported messages from mosques sent out on loudspeakers were calling on local people to "go out and kill" Christians.
"It is absolutely terrifying. We do not know what is going to happen next," the source said.
Another leading Pakistan clergy from Faisalabad described the violence as a "act of brutal terrorism," adding, "The people who attack innocent Christians and burned their homes have a mindset of terrorism."
Nasir Saeed, director of Center for Legal Aid Assistance and Settlement – United Kingdom, condemned the incident, saying that it is "an unfortunate situation where despite the presence of law enforcement agencies, individuals are taking matters into their own hands while the government remains silent".
Saeed said blasphemy cases against Christians are becoming a recurring issue, "yet the government has failed to take effective measures to halt its continuous misuse".
He stressed that the treatment of minorities in Pakistan "is deteriorating," adding that Christians "live in a constant state of fear".
Pakistan is a signatory to numerous human rights conventions and is obligated to align its laws with international treaties aimed to protect basic human rights including religous freedom.
Saeed said it is high time for Pakistan to "urgently amend this law and ensure that those responsible for the attacks on Christians and their churches in Jaranwala are brought to justice". – with reports from AFP