Life for Christians in Pakistan is hard. As members of a religious minority they are frequently victims of discrimination and social exclusion. Most Christians belong to the poorest classes of society and include factory workers, day laborers, domestic staff, cleaners of drains and toilets.
Many of them find themselves without recourse to legal support and ignored by the forces of law and order when they attempt to defend their human rights. However, for Christian women this vulnerability is even greater and more dangerous. Public reports of sexual abuse and forced marriages are numerous—and actual numbers are likely greater still.
Aid to the Church in Need (ACN) is now supporting a program aimed at empowering young Christian women living in these extremely difficult circumstances. Many of the young women involved in the program are students or domestic workers in the suburban areas of large Pakistani cities. Out of concern for their safety and to avoid any kind of reprisals against the young women concerned or against ACN's local partners, the organization is not revealing any actual names or localities.
---
---
---
One of these young women is 'Samia' (name changed). She lives in the north of Pakistan with her parents and four brothers. Her father is a factory worker and her mother is a housewife. "Since I belong to a Christian family, my parents have always warned me never to speak about religious differences with other people. They have taught us to simply endure any kind of discrimination, since we have no influence, given that we are living in a Muslim country.
"I'm afraid of being discriminated against by the law; we are a minority in the country and we do not have much support in Pakistan. We live in a state of anxiety and constant pressure. We believe that if we do try to defend our rights, we will be accused of blasphemy or some other charge, based on false accusations, as has already occurred in the past," she explains.
"Thanks to my involvement in the women's advancement program sponsored by ACN, I have found myself strengthened in my faith. They are helping us to be more aware of our responsibilities and our rights. They are encouraging us to stand strong and fight against discrimination and forced conversion, harassment, and violence and to defend our equal rights, "says Samia, who is 20 years old. The program has encouraged her "to work hard, so that our community can have a better future."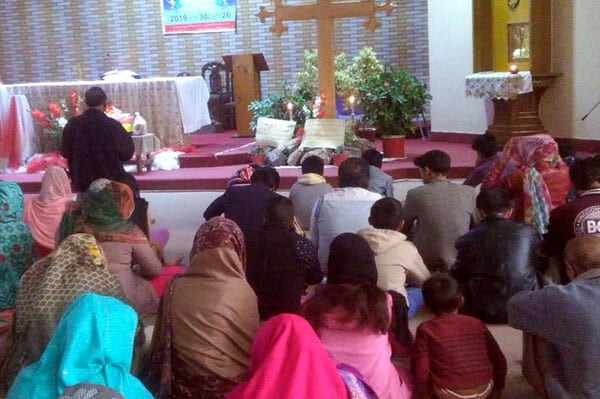 Another young woman involved in the program is 'Ashia' (not her real name). Her father is a street sweeper and earns just 10,000 Rupees (US$65) a month. "When I went to university, I suffered many acts of discrimination on the part of my lecturers and fellow students, to the extent that I couldn't concentrate on my studies," 17-year-old Ashia explains. She shared her difficulties with a friend, who encouraged her to get involved in the ACN program.
"I attended the counselling sessions and they gave me new hope to be able to cope with my circumstances. I promised myself that I wouldn't give them another opportunity to destroy my future. I'm going to study hard and show people that Our Lord is always with us, that he gives us strength, and guides and protects us," she concludes.
Another typical case is that of 'Shazia' (name changed). Like many young Christian women, this 19-year-old had big dreams. Her father, a rickshaw driver, was the only person supporting the family. With a great deal of effort on the part of her family, she managed to study software engineering at university. But owing to the financial crisis she had to abandon her studies in her second year.
"I began working in a factory to help my father support the family economically. I earned between eight and ten thousand Pakistani Rupees a month. I thought this is my destiny and this was going to be my future," she recalls. She was resigned to her fate, until she was introduced to the support and professional assessment program sponsored by ACN.
"New hope was born in my life. They lit the spark of hope that it was possible to do something different in our lives and succeed in bringing about positive change, for so many despairing young people like myself. The motivational talk inspired me so much, and I realized that education is the only tool and the key to success. Everything is possible if we commit ourselves wholeheartedly and confront the difficulties of life with courage," Shazia now says.
One of the youngest participants in the program is 'Nasreen'(not her real name). Aged just 15, this young woman was in the ninth year of a state school course when the pandemic destroyed her life. Her father is a day laborer, and as a result of the lockdown he found himself facing many financial problems, including paying her school fees, for example, or the cost of online classes during the pandemic. The result of it all was that Nasreen could no longer pay her fees, and additionally she was the only Christian woman in the class. In the end she was expelled from the online classes.
"I was very hurt and upset, but I couldn't talk about it to my parents because they were already suffering greatly on account of the difficult financial situation in the family," she says. "It was not the first time; my classmates subjected me to constant discrimination and prejudice towards me and my family on account of our religion. I was completely at a loss and despairing because of what was happening to me," Nasreen explains.
"Then I got to know the team who were running the project and who were offering a session to a group of young girls like myself. They explained to us that formation was vital in order to be able to grow personally and spiritually." Eventually things improved and Nasreen's father was once again able to work and pay her school fees.
But it is not just about the economic aspect. The moral support and encouragement the courses provide are essential in helping these young Christian women, who otherwise often feel overwhelmed and abandoned in the face of their apparent destiny.
"I am so grateful to ACN for having been the source of such a great change in my life. For now, the candle of faith and hope is lighting my path and I will not let it be extinguished by any kind of discrimination in the future," Nasreen says. — Maria Lozano / Aid to the Church in Need
(This article is reprinted with permission by the Aid to the Church in Need – United States)