Several churches in the southern and central Philippines have opened its doors on Wednesday, December 15, to people who will be affected by typhoon Rai (local name: Odette).
In its morning bulletin, the state weather bureau Pagasa said "Odette" carries maximum sustained winds of up to 120 kilometers per hour with gustiness up to 150 km/h.
The typhoon is expected to intensify further over the Philippine Sea before making landfall in Caraga or Eastern Visayas on Thursday afternoon or evening, December 16.
---
---
---
Father Denish Ilogon, social action head of the Diocese of Surigao, said parishes have been preparing for the typhoon and have opened churches to serve as evacuation ceners.
"We have also instructed parishes to allow the use of church facilities in case there's a need for additional evacuation centers," said the priest in an interview over Church-run Radio Veritas 846.
In Cagayan De Oro, also in Mindanao, officials of the archdiocese's social action centers have been meeting to prepare for the impact of the typhoon.
"We hope that the impact of 'Odette' will not be as bad," said Father Bong Galas, social action director. The priest said the city has been experiencing rains already early on Wednesday.
The priest said people in the archdiocese have a "phobia" of typhoons because of the destructions they witnessed in the past.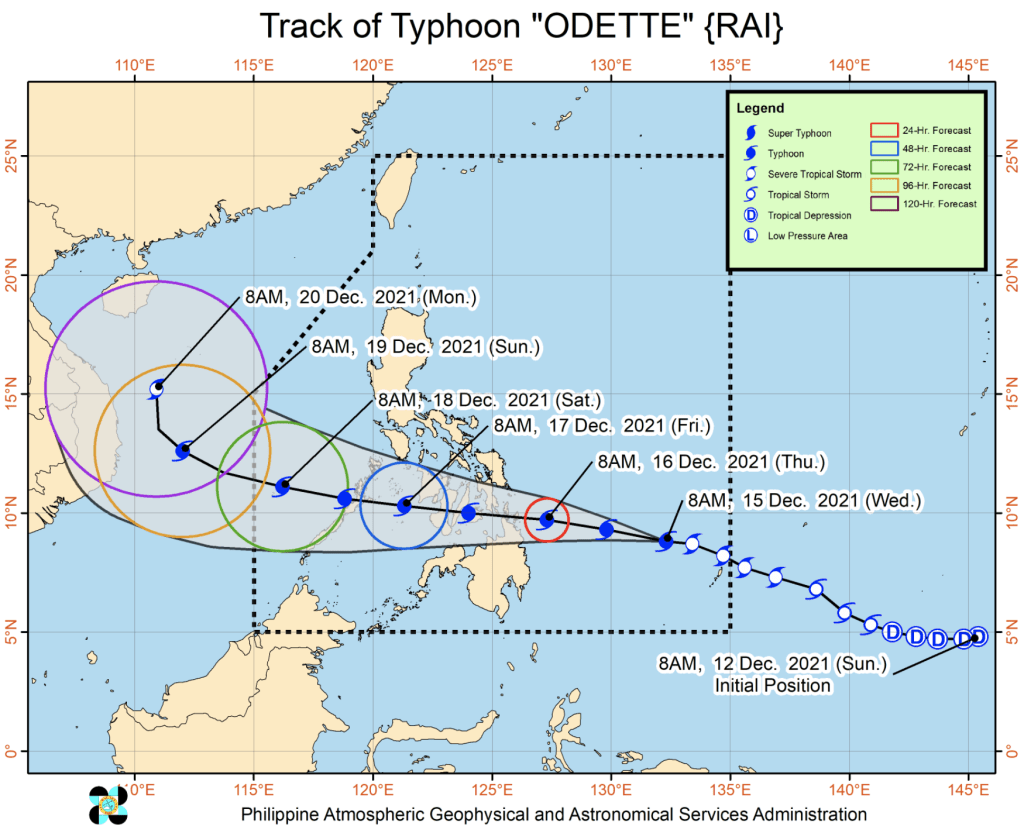 Pre-disaster cash aid
Humanitarian groups, meanwhile, distributed, through digital cash transfer, about four million pesos to 2,650 families in 40 villages in several towns of Eastern Samar province.
The cash aid distribution is designed to assist households to prioritize their urgent needs three days before the projected impact of typhoon "Odette."
Maria Rosario Felizco, Oxfam Pilipinas country director, said that by shifting from giving post-disaster cash aid to providing pre-disaster cash aid, communities can recover from disasters sooner.
"To strengthen Filipinos' disaster resilience, we need to move from a post-disaster response mechanism, and instead anticipate disasters and support vulnerable groups such as low-income families, elderly people, single women with children, and people with disabilities," said Felizco in a statement.
The initiative also capacitates local leaders to improve disaster preparedness and response.
"With the early disaster warning technology of the B-READY project, local governments can start anticipating and planning for coming disasters that immensely helps communities to cope with disasters better," said Salcedo town Mayor Melchor Mergal.
The B-READY project is an innovation that combines weather forecasting and pre-disaster cash transfer technology that allows communities to protect themselves and minimize damages to livelihoods and infrastructures before a disaster strikes.
"The experience of Salcedo is one of those we are looking at for the scaling up of B-READY," said Oxfam Financial Inclusion Manager Junver Arcayna.
"By following the B-READY protocol, an LGU is empowered to decide and make assessments for the need of an activation of the protocol."
The Municipal Disaster Risk Reduction and Management Office of Dolores, Eastern Samar, also tried B-READY's anticipatory action for the first time.
"We are glad to be part of the innovative shift to focus on anticipatory action instead of the default post-disaster response," said Manuel Catuday, the town's MDRRMO head. "With this project, we are confident that our community is ready to face the coming typhoon."
The project is is jointly implemented by Oxfam Novib, Oxfam Pilipinas, People's Disaster Risk Reduction Network, PLAN International, PayMaya, Smart Padala, Climbs, Global Parametrics, and the local government of Salcedo in Eastern Samar, with the donation of Dutch Relief Alliance.