Taking a cue from Greta Thunberg and other climate activists, more young people are joining ecological discourses demanding substantive efforts to reduce carbon emissions.
Seeing the youth's enthusiasm and zeal, organizers of the 27th United Nations Climate Change Conference, or COP27, in Egypt, assigned an "official space" for the youth in the meeting.
The Children and Youth Pavilion has been designed to enable young people to hold discussions and policy briefings.
---
---
The launch of the India Pavilion saw four young scholars who work for "positive climate change solutions — Elizabeth Eapen, Suhana RH, Nikhilkumar Panchal and Prachi Shevgaonkar — taking center stage.
A 2021 study found India as the seventh most-impacted country in the world by climate change.
The young Indian scholars shared their stories of climate action — from mobilizing communities to using mobile applications and emerging technologies — to tackle pollution and to help people reduce carbon footprints.
Eapen, who hails from southern Kerala's Pathanamthitta district, is leading an enterprise producing paper bags.
Panchal from western Gujarat state city of Ahmedabad established "GREEN AADHAAR," a digital infrastructure for the plastic waste management sector using machine learning and blockchain technology to build a plastic credit model for the industry.
Shevgaonkar, who hails from Maharashtra's Pune City, is founder of a community-led app for climate action that motivates people to make small lifestyle changes that can have big climate impacts.
The application has already 30,000 users from 110 countries who have collectively avoided two million kilograms of Greenhouse Gas Emissions through the app, equivalent to planting a million trees.
Suhana RH from Thiruvananthapuram, Kerala's capital city, is mobilizing communities toward better solid waste management.
The four young innovators are winners of the first cohort of the COP27 Young Scholar Programme launched by the country's Ministry of Environment, Forest, and Climate Change together with the United Nations Development Programme and the United Nations Children's Fund.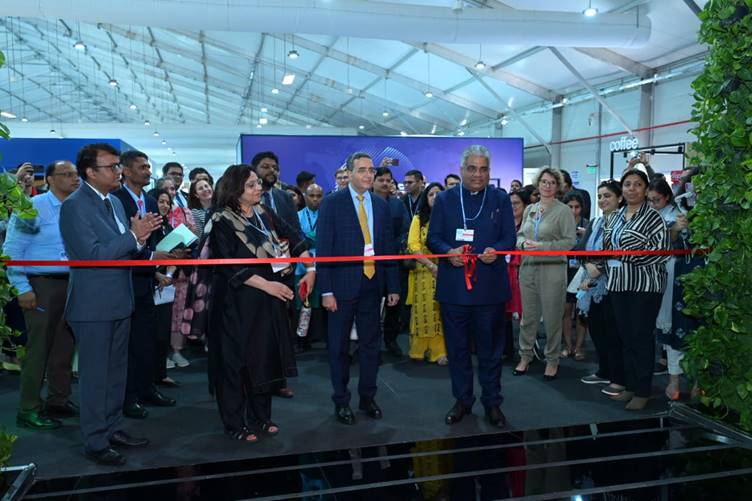 India's Environment Minister, Bhupender Yadav, said India believes that climate action starts from the grassroots, thus designed it designed its the pavilion with the theme "LiFE – Lifestyle for Environment."
He said the pavilion will remind delegates that simple lifestyle and individual practices that are sustainable in nature can help protect Mother Earth.
Shoko Noda, UNDP resident representative in India, noted that young people have been leading climate action.
"They have ideas, are innovating and finding scalable solutions to fight climate change," said Noda, adding that their "solutions-based approach inspires bolder climate action from people, communities, and governments."
The COP27 meeting comes at the end of a year that has witnessed extreme weather events from record-breaking heat waves to floods and droughts around the world.
"Children must question their elders at [COP27] as to what they are doing to control this menace as children are expected to live longer than them," said Stephane Pouffary, a youngster from France at the "NO COP OUT" online event for children.
Over 900 child advocates met online in the "NO COP OUT" event from November 4-5 to demand a strong UN framework that recognizes the ecological rights of children.
Students from across India and abroad interacted with organizers and official delegates of global meeting to propose their "ADvocal report" on ecological rights.
COP27 delegates Elizabeth Eapen and Prachi Shevgaonkar addressed the gathering and promised to ensure that the children's "ADVocal" charter will be heard.
NO COP OUT is an attempt to involve children in policy decision-making that will influence the lives of 2.2 billion children around the world.
Father Susai Sebastian, president of PRATYeK (Everyone), said "it is encouraging that the children are in the forefront of this movement as the future belongs to them."
The priest said no less than Pope Francis proposed an "integral ecology" where environmental, social and cultural issues are clubbed together.
"World leaders must act to save Mother Earth and her rich biodiversity. If not here (at COP27) then where? If not you, then who? If not now, then when?" said Sheetal Chaurasia, a teenager from India.