An appeal on forced conversions that was dismissed by India's Supreme Court last year as "frivolous" resurfaced this year and has been accepted by another bench.
"It is a very serious issue that affects the nation's security and freedom of religion and conscience," said Justices M R Shah and Hima Kohli.
The justices said the federal government "must make its stand clear on what further steps can be taken to curb such forced conversion."
---
---
The apex court was hearing a plea filed by advocate Ashwini Kumar Upadhyay who sought the direction of the central government and the states to take steps to control "fraudulent religious conversions."
Upadhyay filed a similar complaint last year, but it was dismissed by another bench of the same court.
In April 2021, Justices Rohinton F Nariman, B.R. Gavai, and Hrishikesh Roy dismissed Upadhyay's petition and threatened to impose penalties if he persisted with it.
The judges opined that the Constitution allows freedom of religion of choice, that is why the word "propagate" is included in Article 25 of the Constitution.
A similar plea, however, was accepted by the Justices M R Shah and Hima Kohli who scheduled further hearing of the issue on November 28.
In the present case, the remark by the bench comes with "ifs and buts," showing that the judges themselves are not sure of any "forced religious conversion" taking place on the ground, said Father Suresh Mathew, editor of the weekly Indian Currents .
He said there are already laws that deal with violations of the constitutional provision, but still about a dozen states have passed special anti-conversion laws on proselytization through force, allurement, intimidation, among others.
Constitutional law expert Faizan Mustafa noted no state government that enacted anti-conversion laws made public any data on cases filed and convictions by courts of law.
In January 2021, Madhya Pradesh came up with a stringent ordinance, and within the first 23 days an equal number of cases were filed alleging forced conversions.
None resulted in conviction.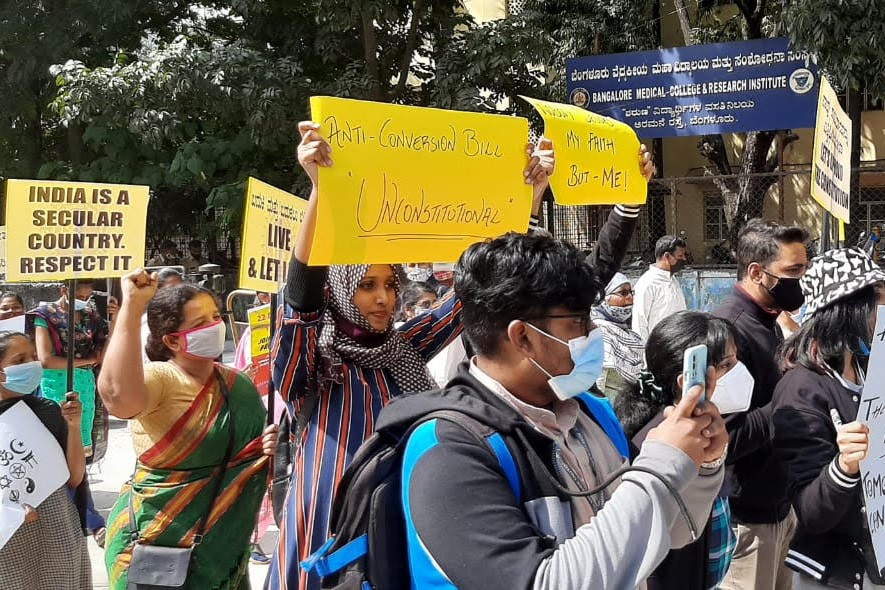 Religious conversion has been on the pro-Hindu Bharatiya Janata Party's (BJP) agenda and a law against it has been on its manifesto, said Mustafa.
If the state laws have not succeeded, what is the guarantee that a central law would put an end to forced conversions, he said.
Father Mathew said that the lack of convictions proves that the complaints are the "creation" of fundamentalists with ulterior motives.
The priest said that loosely worded provisions of laws are often stretched to ridiculous levels to accuse social and humanitarian works done by Christian organizations or other churches as forced conversions.
The Capuchin priest described it as an "affront" and demoralizing to both the benefactors of philanthropic works and its beneficiaries.
He cited the Dalits ,or "untouchables," who opt for conversion due to discrimination and social bias.
They convert on their free volition and it should not be dubbed as forced conversion, said Father Mathew.
Father Cedric Prakash said the petition's claim that if forced conversions were not checked, Hindus would soon become a minority in India is without basis.
The priest said census data in 2011 show that the growth rate of minorities is on the decline.
Christians only comprise 2.3 percent of the population and the figure has remained static in the past two census.
There has been just one conviction by the lower court out of 16 cases under the anti-conversion law enacted by Uttar Pradesh state, said Father Prakash, adding that there have been several incidents of conversion to Hinduism.
In 2014, at least 57 Muslim families with more than 200 members converted to Hinduism in Agra.
In 2021, there were 300 Muslims in Haryana who converted to Hinduism.
When people are converted to Hinduism, the bogey of conversions is never raised, said Dalit activist and advocate Franklin Caesar Thomas.
"Five million Dalits have reconverted to Hinduism from Christianity to get caste reservation benefits," he said.
Father Prakash said more than 8,100 Dalits left Hinduism and embraced Buddhism in Delhi last month.
He said embracing another religion away from Hinduism is a clear statement that Schedule Castes and Schedule Tribes want to escape physical and mental torture and live a more dignified and humane life.
There is absolutely no "force" in their voluntary decision, said the priest, adding that one should take into account the circumstances that "lured" and "forced" people to opt for a religion of their choice before passing judgment.